Culturetopia: Must-Listen Arts & Entertainment (Technicolor Edition)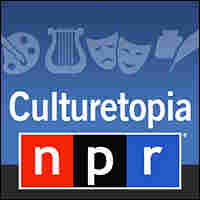 This week, All Things Considered producer Sonari Glinton guest hosts on NPR's arts podcast, Culturetopia. He discusses working with host Melissa Block on an ongoing series about favorite summer songs. We'll play part of an interview with Adam Duritz, the lead singer and founder of the band Counting Crows, who tells us why he selected the English Beat tune "Save It For Later."
"There's just something about the joy of the song," he tells Block. "Like, it just seems so Technicolor to me."
We've also got a hilarious interview with Italy's most influential pop star, a look back at hard-boiled African-American detective writer Chester Himes and a story about turning Ray Bradbury's science fiction classic Fahrenheit 451 into a graphic novel...with, mind you, the master's permission.
On top of that, we've managed to squeeze in some great tape of Australian actor Eric Bana (Munich, The Time Traveler's Wife) doing some acrobatics with various accents, a moving story about a guy who writes people's life stories on postcards, and the meaning of comedy — from writer-director Harold Ramis, best known as the one with the glasses in "Ghostbusters."
You can subscribe or download the podcast here. Or you can listen right here.
Enjoy!