Culturetopia: Must-Listen Arts & Entertainment (Eating Edition) : Monkey See This week on NPR's arts podcast, Culturetopia, we have stories about Shakespearean acting, Kurtis Blow, and a Senegalese rap pioneer, as well as personal tales touching on eating ramen noodles and eating the food of Julia Child.
Culturetopia: Must-Listen Arts & Entertainment (Eating Edition)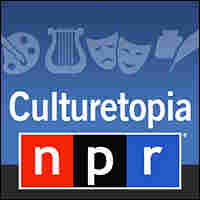 This week's edition of Culturetopia, NPR's weekly podcast of our best arts and culture stories, has arrived. Listen right here, or subscribe to the podcast here.
This week: Nora Ephron talks about cooking up the new film Julie And Julia, and we hear a profile of a socially committed Senegalese rap pioneer.
We talk a little about John Hughes, the director of a number of classic 1980s teen comedies, who passed away last week at the age of 59.
We join Bob Mondello for a truly hilarious look back at a 1980s British TV series about Shakespearean acting. The series featured a bunch of unknown thespians who are some of today's biggest stars. We promise you will recognize them. The show has been released on DVD, and it makes the perfect present for the Patrick Stewart fan in your life.
You'll also hear a poignant interview with one of hip hop's first superstars, Kurtis Blow, on the occasion of his 50th birthday, and listen to professional ghostwriters expound upon the pleasures and perils of their profession. "I did anything," one says," to put ramen noodles in my bowl and a roof over my head."
Bon appetit!