SNL's Michaela Watkins 'Just Too Classically Pretty To Be Hilarious'?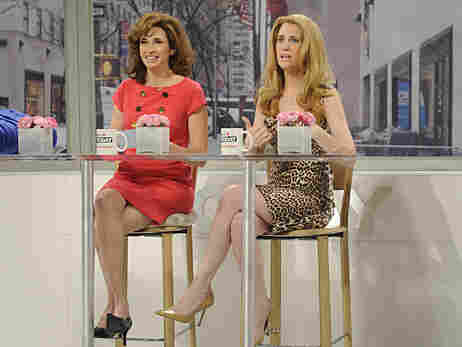 News broke that Saturday Night Live had added two women — Jenny Slate and Nasim Pedrad — before it was as widely known that they had ditched Casey Wilson and Michaela Watkins. So it seemed for a brief moment like the show might be trying to increase its complement of women, which would be wise, given the departures in recent years of high-profile women including Tina Fey and Amy Poehler. That's not to mention the rise of Kristen Wiig, who now has the kind of movie career (Extract, Knocked Up, Adventureland, the upcoming Whip It) that makes you start to wonder just how long she's likely to be around.
But no — there's no building of the female side of the cast. With the booting of Wilson and Watkins, the show will start the season with all of one woman in the nine-member full cast (Wiig), and three women making up four of the "featured" performers — Slate, Pedrad, and Abby Elliott.
Nobody I know was particularly surprised about the dropping of Casey Wilson, who had a bumpy tenure and didn't make a particularly strong impression. Michaela Watkins, however, had a strong first season and has been the subject of much more angry chatter — including that of Entertainment Weekly's Michael Ausiello, who has been filling his Twitter feed and column with his strong opinions about how foolish it was to give up a performer of her talents.
But I was particularly interested in this gem from Tom Shales of The Washington Post, who says this as part of a piece about how the show is still wonderful and important, no matter what anyone says:
Two new women who will have the status of featured players — Jenny Slate and Iranian-born Nasim Pedrad — will join the cast, not as replacements for anybody, Michaels says, although cute Casey Wilson and glamorous Michaela Watkins have concurrently left. Watkins may have been just too classically pretty to be hilarious. Anyway, the absences of Fey and Poehler will be felt.
Let's think this through, after the jump...
If you ever wonder why it's particularly difficult for women to succeed on SNL, consider just the assumptions found in this one paragraph. The explanation from Lorne Michaels that there is no connection between losing two women and gaining two women (which contributes to the vague sense that there are only a couple of places for them in the cast) is accepted apparently without question, while the two women leaving are referred to as "cute," "glamorous," and "classically pretty." In fact, Watkins learns from Shales that she may have been "too classically pretty" to be funny.
There is no effort here to evaluate the work of either Wilson or Watkins. They are cute and pretty; it is suggested, in fact, that this might explain why they aren't funny. Shales gives no indication that he has ever seen either one of them perform or has any opinion of their abilities; this entire assessment of their tenure at the show could be based on photographs. Even Tina Fey's impression of Sarah Palin, while it's called "smashing," is mostly chalked up to the uncanny physical resemblance, which Michaels reports was mentioned to him by none other than Robert DeNiro.
Thanks to Alex Leo at The Huffington Post, I also had the opportunity to read this lovely quote, which she dug up from a previous online discussion Shales conducted:
I thought Ms Watkins looked like a model; very elegant, quite quite pretty. It seemed like maybe comedy is too messy a business for someone like her. I couldn't see her letting herself get messed up for laughs — not that there's much slapstick any more, it's just that comedy is by its nature indecorous, if there is such a word.
He "couldn't see her letting herself get messed up for laughs." Hmm. Does the availability of actual show footage showing her looking extremely unglamorous affect this analysis at all? Or is it just that even though she did allow herself to get messed up for laughs, he didn't feel it, so it doesn't count? Because this isn't really an indictment of her talent; Shales is actually accusing her of being, in his mind, unwilling, because of her looks, to be funny.
Whether the departures of Wilson and Watkins and the arrivals of Pedrad and Slate will be good or bad for the show remains to be seen, and it's certainly not uncommon to see turnover in the cast. But it seems to me that when people are summarily dismissed and the effect of their departures on the upcoming season is specifically within the realm of the topic, it might be worthwhile to speak of their performances on a more serious level, and it certainly might better serve the discussion not to shrug and say that pretty women aren't really funny anyway, and to blame them for being unwilling to participate in comedy because of their delicacy. If Watkins isn't funny, she isn't funny, and that's the reason she needs to go. If, however, she is funny, then booting her is a loss that cuts against the thesis, and wouldn't that be worth mentioning?
As we discussed when the co-creator of Hung made a similar comment suggesting that pretty women aren't funny enough and funny women aren't pretty enough — at least over a certain age — the logical connection between beauty and comedy is awfully hard to understand. Tina Fey is very classically pretty, as were Mary Tyler Moore and Lucille Ball. It's time to move the discussion past this point.