Cake Wrecks: A Great Site Becomes A Fantastically Gut-Busting Book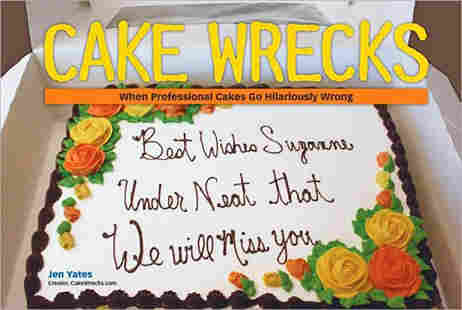 Cake Wrecks, an Internet site maintained by Jen Yates, is the kind of project that radiates such brilliant simplicity that you wish you'd invented it yourself.
Subtitled "When Professional Cakes Go Horribly, Hilariously Wrong," Cake Wrecks is really just a blog made up of photos, sent in by readers, of professionally baked and decorated cakes that someone really tried to charge money for. Yates sprinkles them with a little witty commentary, but for the most part, it's that simple.
And now, delightfully, Cake Wrecks has spawned a hysterically funny book of the same name that, I am happy to report, sent both my co-workers at NPR and my family into fits of giggling. It's one of those great momentum-builders, where you giggle at the first one, and then you giggle more as you turn every page, and then you start laughing, and then you can't stop laughing, and you're suddenly laughing so hard you can't stop laughing long enough to tell anyone what you're laughing at. If you've ever read a book like that, you know what an unmatched joy it is.
It's true that Cake Wrecks is a big silly joke — it's not social commentary or high-minded satire. It's just funny. But there is something about this particular project that has a sort of relentlessly upbeat and warm good nature to it that isn't always found in similar "FAIL"-type blogs.
One big part of it is that word "professional." Yates has no interest in humiliating your friend or your grandmother who was just trying to do something you would love, and she doesn't want you sending in the cake your preschooler's best friend's mother made. No, these cakes are the results of failed business transactions. They aren't labors of love; they're labors of ... labor. In fact, her FAQ mentions that she doesn't even feature anything where she's aware that the professional is an excited newbie just starting out. Why? In part "because it makes me feel like a bully."
Still, when you see some of them, any sympathy you might have for the embarrassed bakeries will likely fly out the window (those responsible aren't named, by the way, so it's not about ruining anybody's business). On the cover of the book, you'll see that cake that says, "Happy Birthday Suzanne, Under Neat That We Will Miss You." As you can imagine, that is not quite what the customer intended when filling out the order form for Suzanne's cake.
More like this, after the jump...
There is a photo of a similarly mangled project that consists of a plain white sheet cake with messy script across it that says "Olympics Rings." With the quotation marks, I might add. (See that one here.) (Yates gathers this particular kind of wreck, where the baker writes, rather than executes, the instructions, on this page.)
A few of my other favorites: Naked mohawk baby carrot jockeys (probably her signature piece). An entire page of bad wedding cakes. The evils of plastic decorating kits.
Fortunately for Cake Wrecks, bakers never run out of bad cakes. Day after day, she finds funny angles and funny commentary, and the site is one of the most reliable pick-me-ups I've found — and on Sundays, she features good cakes, for a change of pace. The site is a delight, and so is the book, and if you're looking for something to hand around at the office or give as a gift, I highly recommend it.
I should add that I write this with a bit of a heavy heart (or at least a concerned one), because Yates' book tour has been interrupted by her husband's serious illness (he's a coconspirator on the blog, familiar to all her fans), which has landed him in the ICU. She's been providing updates on the site, and as of this writing, her request that people send in their favorite jokes to lift his spirits has yielded more than 850 comments from her devoted readership. People really, really love ugly cakes. It's an odd time to discuss how funny the book is, but it seemed counterproductive and backwards to say, "Better not say anything nice about the book when she's in a tough spot." So best wishes to them both, and seriously: check out the book.