Culturetopia: Must-Listen Arts & Entertainment (Track Suit Edition) : Monkey See This week on Culturetopia, we've got lots and lots of track suits, from the fictional worlds of cheerleading coaches and soccer coaches, plus a whole lot more.
Culturetopia: Must-Listen Arts & Entertainment (Track Suit Edition)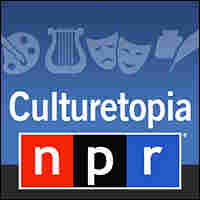 There are track suits in NPR's weekly arts and culture podcast this week.
An endless supply of them.
Some adorn the six-foot frame of Jane Lynch, who plays scheming cheerleading coach Sue Sylvester in the new Fox musical comedy television series "Glee." ("It's like slipping into your pajamas when you go to work. I love it," Lynch confides to host Melissa Block.)
And you'll see tracksuits aplenty in the new British soccer film The Damned United, which looks at the ridiculously abbreviated coaching career of Brian Clough, who lasted with the Leeds team for only 44 days.
We've also got my piece about rapper Brother Ali, who has probably worn a track suit once or twice in his life. Less sure about the sartorial tendencies of Rosanne Cash, who's interviewed about her new hit album of songs recommended to her by her man-in-black dad.
We've got an excerpt from Talk of the Nation's conversation with Whitopia author Rich Benjamin. Yes, it's about the whitest places in the US, demographically speaking. And finally, a visit to the shop of the late, great hot dog purveyor Ben Ali. Ben's Chili Bowl is a favorite of DC residents ranging from the current president to yours truly, and it's long stood as a symbol of the city's diversity and resiliency.
Listen to the show, where I'm joined by Sonari Glinton, who's a producer at All Things Considered, right here.