DeLay Departs 'Dancing,' Cites Agony Of The Feet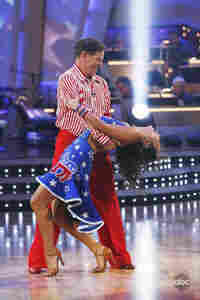 Well, the Tom DeLay Dancing With The Stars saga came to an end on Tuesday night as the former House Majority Leader was forced to withdraw from the competition after developing stress fractures in both of his feet. While he stressed that he was no quitter, his determination was unable to heal his bones.
Tom will thus be remembered on the show for his final routine, in which he wore a red-and-white striped shirt for a rousing barbershop version of "Jeepers Creepers." No, not really. In fact, there is a big elephant on the back of his shirt, while there is a big donkey on the blue dress of his partner, Cheryl Burke, and the two of them did the samba to "Why Can't We Be Friends?"
This time, I am not kidding. And at one point, he threw money into the audience. (Really!) But my favorite part was that he was actually counting to himself, "One, two, three, four," so hard that you could watch his mouth moving. Hey, the samba does not come naturally to everyone.
Tom DeLay's final performance, after the jump.