Rentals To Bend Time And Space: 'Black Dynamite' And 'House Of The Devil'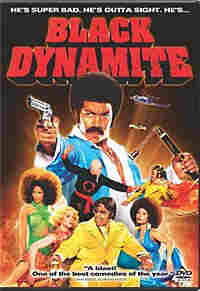 If you're looking for DVD rental options, why not attempt a double-feature combo that twists the fabric of time/space itself? This is good R-rated fun for the all the right reasons, with the added bonus that the potential temporal rifts lend a nice flavor of suspense to the proceedings.
New to DVD this week, the very funny Black Dynamite is an action-comedy spoof that replicates the fun of 1970s blaxploitation films with remarkable fidelity. Headlined by co-screenwriter and action star Michael Jai White, the movie concerns one-man army and infamous African-American action hero Black Dynamite as he returns to his old stomping grounds to avenge his brother's death, take on nefarious drug dealers, and stick it to The Man.
Here is an utterly assured film that knows exactly what it's doing in every scene. In some sequences, the movie is impressively authentic to the '70s subgenre, right down to the saturated color schemes, smash cuts and gratuitous nudity. In other scenes, it steps back just enough to wink and nod with satirical affection.
If you were to stumble across this on basic cable at 3 a.m., you'd be hard pressed to tell it apart from those old Fred Williamson and Richard Roundtree movies. DVD extras include a filmmaker and cast commentary track; deleted scenes; alternate scenes; and two featurettes, including the apparently de rigueur Comic-Con preview doc.
Moving on to horror, after the jump.
Follow up Black Dynamite with the recent and equally authentic old-school horror homage House of the Devil, and you've got a pop-culture mainline right back to the late '70s/early-'80s era. Designed to look, sound and feel like a direct-to-video cult classic, Devil is directly inspired by the early-'80s media mini-craze for stories of Satanic cults preying on America's teenagers. From title graphics to wardrobe choices to the 16-mm film stock, the film reverently evokes those breathless '80s horror flicks in which pretty young babysitters make poor decisions regarding staircases, locked doors and kitchen knives.
Director Ti West (Cabin Fever) is genuinely faithful to the form — this isn't some meta exercise like the Scream movies. West also employs the classic suspense strategies more or less invented by Alfred Hitchcock. (A bomb under the table explodes: that's surprise. A bomb under the table doesn't explode: that's suspense.) Devil has one masterful 20-minute passage that's almost unbearably tense. Only afterward do you realize that nothing actually happened.
The real fun here is in Devil's affectionate allegiance to the '80s. Veterans of the decade will enjoy those glorious feathered hairdos and high-waist acid-wash jeans. (In a clever marketing gimmick, the filmmakers even issued some promotional copies of Devil on VHS.) Extras are modest: two brief production docs and some very disposable deleted scenes.
It's a common complaint that modern movies in both these genres — action and horror — have been diminished by hyperkinetic editing and an over-reliance on bombastic special effects. Both Dynamite and Devil have a ramshackle, analog charm that deliberately employs earlier filmmaking techniques. The absence of CGI is a definite bonus, as is the fact that the average shot length isn't hacked down to fractions of a second.
For added era-specific ambience, you may want to bust out those old Jordache jeans and a few cans of Jolt cola.