Culturetopia: Must-Listen Arts & Entertainment (Junk In The Trunk Edition) : Monkey See In this week's edition of (the award-winning!) Culturetopia: The Black Eyed Peas, a new look at an old Alice, and what to do with a famous collection that may be on the move.
Culturetopia: Must-Listen Arts & Entertainment (Junk In The Trunk Edition)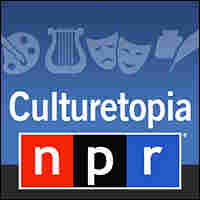 Good news, Culturetopians! NPR's podcast of the week's best arts stories just won a Gracie. This is extremely exciting. The Gracies are quite prestigious; they're awarded by the American Women In Radio and Television, and Culturetopia is the very first podcast to be so recognized. So, yay!
All Things Considered producer Sonari Glinton and I have stories about junk in the trunk today, beginning with a terrific backstage interview with the Black Eyed Peas — I think it sounds like one of those old-style NPR pieces, where the production makes it easy for you to imagine Fergie, will.i.am, Taboo and Aple. De Ap all kicking back in some stadium dressing room with NPR's Lynn Neary, talking about their group dynamics.
The question of what to do with the junk at the Barnes Foundation occupies the new documentary The Art of the Steal. Because that junk happens to be an utterly extraordinary collection of paintings ranging from Impressionist to early Modern, an ugly controversy has erupted over the Foundation's planned move from a suburban mansion to downtown Philadelphia. Joel Rose has covered the Barnes extensively and he has this report.
We've got a look at a little-known Irish animated film that's contending against Disney and Pixar for Best Animated Feature at the Oscars. And in an engrossing interview, noted author Ozzy Osbourne discusses the joy of heavy metal and the autobiography he (kind of) wrote, with Scott Simon.
It's Chopin's bicentennial — occasion enough to break out those rare Paderewski recordings and debate the age old question: Bach, Schumann or Chopin? NPR's classical music guru explains why he'll pick the last one, every time.
And a new novel that lightly fictionalizes the perhaps-not-so-innocent relationship between Lewis Carroll — an Oxford mathematics professor whose real name was Charles Dodgson — and his Alice. Alice I Have Been imagines what it would be like if someone else' fantasy of your childhood was written deeply into the rest of your life.