Surprised That The 'Tik-Tok' Guy Won An ASCAP Award? Don't Be.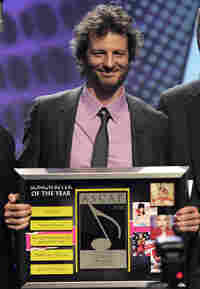 by Zoe Chace
Some might be surprised that the songwriter behind Ke$ha's "Tik Tok" received the Songwriter of the Year Award from ASCAP this week. But don't be: these were the ASCAP Pop Music Awards, and of pop music, Lukasz Gottwald is king.
Better known as Dr. Luke, he is some kind of genius — one of the pop music makers who was handed a secret code by God that generates songs perfectly shaped to the inside of your head. He was mentored by the modern-day Brill Building-y, muckety-muck Max Martin, who basically created The Backstreet Boys and Britney Spears.
And now he's an award-winner.
We consider the man's body of work, after the jump.
As you may well know by now, the lyrics of "Tik Tok" are very weird, but something about the production and lyrical oddness makes for a potent elixir:
Wake up in the morning feeling like P. Diddy
Grab my glasses, I'm out the door, I'm gonna hit this city
Before I leave, brush my teeth with a bottle of Jack
'Cause when I leave for the night, I ain't coming back.
What's funny is that pop singers themselves don't necessarily connect to the lyrics they're given — in fact, they rarely do. NPR's Scott Simon had the following exchange with Ke$ha herself about the much-publicized lyric, "Before I leave, brush my teeth with a bottle of Jack," back in January when "Tik Tok" was even more inescapable than it is now:
SCOTT: I'm not sure Jack cuts down on tartar, if you get my drift.
KE$HA: I don't know about that but I think it is an anti-bacterial, right?
SCOTT: You know, I guess it is.
The lyrics don't mean anything, not even to Ke$%&*#@#$a — but it doesn't mean they don't work almost supernaturally well when you apply a thick coat of Auto-Tune over them and season them with perfectly combined synths, handclaps and Super Mario sounds. It's that delicious, unmistakable "this song is gonna blow UP!" brew.
Another example of the actual meaning of one of Dr. Luke's lyrics escaping its performer is a dust-up that broke over the summer about the awesome summer jam, "Party in the USA." This song rules, for basically the same reasons as "Tik Tok," except "Party in the USA" is even more powerful, like a 90-minute IPA compared to a 60-minute (it is the weekend, after all). Some of the best lines in the song are these, over perfect, breathless-anticipation type drum beats:
My tummy's turnin' and I'm feelin kinda homesick
Too much pressure and I'm nervous
That's when the taxi man turned on the radio
And a Jay-Z song was on
And the Jay-Z song was on
And the Jay-Z song was on
You know that feeling. You land in a new city, and ClearChannel/Radio One ensures that the cabbie's station in New Orleans picks up right where Z-100 in Manhattan left off. It is comforting. Unfortunately, when a reporter last summer asked Miley what her favorite Hov song was, she said this: "I don't know, I didn't write the song, so I have no idea ... I've never heard a Jay-Z song."
I tried to stop listening to "Party in the USA" after that — and I rarely take a stand when it comes to pop, because once you start being offended, it becomes hard to enjoy any of Dr. Luke or any other uber-successful pop songwriter's work — but I couldn't. The song had already set up shop in my head and was open for business. This remix (language NSFW) is even better than the real thing, however, and it's an excellent example of lyricism at its actual best. Not at its most successfully mass-produced best, like Dr. Luke's spell-casting, formulaic simplicity, but, you know — clever, Shakespeare-style poetry.
I have one other thing to say about "Tik Tok" to Dr. Luke: This 'Tik Tok' you refer to — is it perchance the robotic character from The Land of Oz? You know, the first robot to appear in modern English literature? The one who operates via three wind-up keys, which he cannot turn on his own?
1. Thinking
2. Speech
3. Walking
Is that him? Because if so, then now I know your secret, you ironic genius of geniuses! Congratulations on your well-deserved ASCAP.