Tonight's Television: An Evil Nanny Is About The Best We Can Do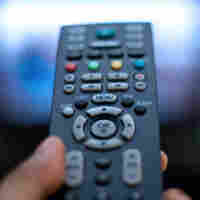 Friday night, people, and this one is even more dismal and empty than most. Tumbleweeds are blowing across the landscape.
Tonight's key words on Ghost Whisperer (CBS, 8:00 p.m.): "Evil nanny."
Or there's always two hours of Wife Swap (8:00/9:00 p.m., ABC). I mean, what's not to like, right? [Sigh.]
I know from the ratings that hardly any of you watch Party Down (10:00 p.m., Starz) — and more's the stinkin' pity — but please give it a whirl. Do it for your culture. Do it for catering.
Perhaps the weekend will be better. Let's look ahead.
New Doctor Who (9:00 p.m., BBC America) for those of you who enjoy Doctor Who! And for everyone else ... perhaps an evening of rented movies?
Okay, Sunday at least brings a new The Amazing Race (8:00 p.m., CBS), and while they're not having their strongest season, those cowboys are enjoyable. (Their names are Jet and Cord, and they are real, not made-up people from Sweet Valley High.)
It's hard to believe that Celebrity Apprentice (9:00 p.m., NBC) has become poignant, but in light of Bret Michaels' medical issues, it sort of has. That doesn't mean it will be better, but it does make it more difficult to enthusiastically mock.
There is more of The Pacific (9:00 p.m.) and more of Treme (10:00 p.m.) from HBO, and there's a new Breaking Bad (10:00 p.m., AMC) — that last one is a show I'm very far behind on, so please don't tell me what happens.