Tonight's Television: 'Idol Gives Back,' And ... Not A Whole Lot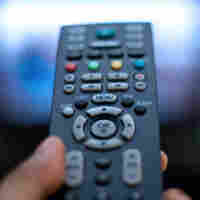 This is really quite a dead night of television as there's some conservation of material heading into the final sweeps period of the season. But we'll power through it.
It's that time again: American Idol (8:00 p.m., Fox) presents its two-hour "Idol Gives Back" special, raising money for charity. Somebody also should be getting bounced at the end, and I'm really hoping it will be Kate Gosselin. Oh, wait — wrong show.
Eric McCormack (Will & Grace) is back on The New Adventures Of Old Christine (8:00 p.m., CBS). I've never been a regular viewer of Christine, but when it's been on in a setting like an airplane, I haven't turned it off. (Let's see them use that for their blurb.)
Whitney Port of The Hills and The City comes to America's Next Top Model (8:00 p.m., CW) this evening. I have genuinely no idea what direction this means she's moving in. Lateral?
And it's time for the season finale of Accidentally On Purpose (8:30 p.m., CBS). Has it been an entire season already?
There's a new In Plain Sight (10:00 p.m., USA), and a new Law & Order: Special Victims Unit (10:00 p.m., NBC), for those of you who like drama.
Top Chef Masters (10:00 p.m., Bravo) takes on pub food.