Tonight's Television: Making Over Leia, And More Wild And Crazy CBS Doctors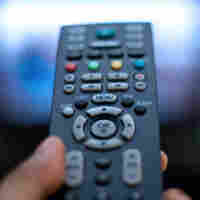 Did you know Margaret Cho has a recurring role on The Ghost Whisperer (8:00 p.m., CBS). Somehow, this information went right by me.
Tonight's episode of What Not To Wear (9:00 p.m., TLC) features a makeover on a woman named, apparently, "Leia." (I think I can predict at least one thing the hair guy might suggest she change about herself.) I won't say it's up there with naming your son "Han Solo," but ... come on, people.
New episode of Stargate: Universe (9:00 p.m., SyFy). Seriously, every time I type "SyFy," I don't know whether to laugh or cry. I know, I know — the rebranding is apparently working for them. Doesn't help me.
CBS premieres a show called Miami Medical (10:00 p.m.), which features Jeremy Northam (hooray!) as the lead in another show about adrenaline-crazy trauma doctors (booooo).
And a few notes on the weekend...
Saturday night is slim pickings, with the networks running away from men's Final Four basketball, which will kick off at 6:00 p.m. Sunday, however, includes a new The Amazing Race (8:00 p.m., CBS), a new Extreme Makeover: Home Edition (8:00 p.m., ABC) with Jessica Alba, and the "Birds" and "Creatures Of The Deep" installments of Discovery's Life (8:00 p.m.)
And that's not to mention that, as the evening wears on, Sunday also brings new Breaking Bad (10:00 p.m., AMC) and The Pacific (9:00 p.m., HBO) for the discerning, as well as Celebrity Apprentice (9:00 p.m., NBC) Undercover Boss (featuring the president and COO of Roto-Rooter) (9:00 p.m., CBS), for the significantly less discerning.