Tonight's Television: 'Party Down,' 'Friday Night Lights,' And The Weekend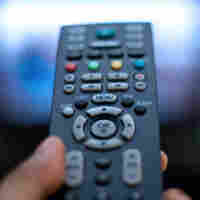 Friday Night Lights (8:00 p.m., NBC) had a very strong season premiere last week, and tonight continues the story of Eric and his East Dillon team.
Something about having a sushi restaurant on Kitchen Nightmares (9:00 p.m., Fox) makes me think this is just going to be ... hard on the stomach. But we'll see.
I've mentioned it in passing before, but tonight's episode of ABC's Primetime: What Would You Do? (9:00 p.m.) is really quite intriguing: this week, they find out how people react to a woman (an actress, we should be clear) who's covered with bruises and appears to be accompanied by her violently angry boyfriend; as well as whether anyone steps in to advocate for a woman rudely harassed about breastfeeding in public. It's really pretty interesting stuff.
What are they doing tonight on Party Down (10:00 p.m., Starz)? Oh, just catering a funeral.
Looking ahead to the weekend, Alec Baldwin will host the season finale of Saturday Night Live (11:30 p.m., NBC) with musical guests Tom Petty and the Heartbreakers. It's going to be hard to follow that Betty White episode, and you should expect to hear some jokes about that, I'm sure.
Sunday night is the big blowout season-ending night of Survivor (8:00 p.m.), where they show the two-hour finale followed by the one-hour reunion. I hold out hope that all of this is going to end with Russell crying again, and if that happens, it might be worth watching, even if Parvati wins.
That's also the night of the season finale of Desperate Housewives (9:00 p.m., ABC). Secrets! Dangers! Explosive endings and set-ups for next year's mysteries!
HBO's The Pacific (9:00 p.m.) also winds up on Sunday night, followed by another episode of Treme (10:00 p.m.). And that's up against an episode of Breaking Bad (10:00 p.m., AMC) called "Kafkaesque." To which I think the natural response is something like, "Aren't all episodes of Breaking Bad called 'Kafkaesque'?"
It's also time for the season finale of Brothers & Sisters (10:00 p.m., ABC), and the commercials really want you to believe someone is going to die.