Culturetopia: Must-Listen Arts And Entertainment (Toe-Tapping Edition)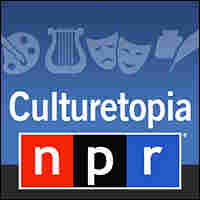 I co-hosted this week's episode of Culturetopia with All Things Considered producer Justine Kenin, and we spent much of our time listening to musicians — from a lovely pioneer of Tejano music to one of the most infectious songs of 25 years ago (which I'm afraid to name, because no, it will not get out of your head once it's lodged in there).
We kicked off, however, with a look at the unusual trajectory of Dennis Hopper, who died this week at the age of 74.
Our cavalcade of music stories kicks off with my frequent co-host, Neda Ulaby, who has a look at the use of shock value in music, from the swiveling hips of Elvis to the impact of Erykah Badu stripping in Dealey Plaza for a music video.
Next up: If you didn't hear the story about the newly released recordings of Motown favorites in Spanish, German, Italian and French (done at the time for international markets), it's a hoot. The web version of the story at that link offers streams of a couple of the songs, including "You Can't Hurry Love," sung a little tentatively by the Supremes in Italian.
Like it or hate it, Katrina And The Waves' "Walkin' On Sunshine" is apparently going to be with us forever and ever, as long as there are commercials and montages, and All Things Considered had the story last week about what it's like to live off the royalties of a single song.
We finish up with Lydia Mendoza, another of NPR's 50 Great Voices. If there's a lovelier nom de ... er, song ... than "the Lark of the Border," I've never heard it.
Enjoy the podcast by tapping the play button below, or just subscribe to the podcast, and some of our best arts and entertainment reporting will float itself into your ears every week without your even having to ask for it.