Tonight's TV: 'Wipeout,' 'Burn Notice,' And A Great 'Parks And Recreation'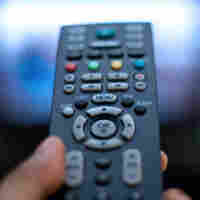 Just another sloooow summer Thursday.
Tonight's bonus episode of Wipeout (8:00 p.m., ABC) features the new Wipeout game for the Wii. I've actually seen this game played, and it kind of reminds me of the old game Pitfall! with giant foam platforms instead of alligator heads.
There's a new Burn Notice (9:00 p.m., USA), wherein we just might find out what's on that tape Michael found last week.
ABC's Rookie Blue (9:00 p.m.) premiered while I was on vacation, which allowed me to avoid reviewing it. It's still on, though.
One dancer will be told, "So You Think You Can Dance? We beg to differ." (Fox, 9:00 p.m.)
It's hard to believe Ace Of Cakes (10:00 p.m., Food Network) has been around for eight seasons, but it has (they're basic cable half-seasons, really, but still!). Tonight, it's back for a ninth run. This is one of those shows that isn't going to make you any smarter, necessarily, but it's not going to make you any dumber, either. The people are likable and funny, the atmosphere is cooperative and pleasant, and they actually do really impressive work.
There's a new Futurama (10:00 p.m., Comedy Central). That still feels weird.
And there's also, of course, a new Mall Cops: Mall Of America (10:00 p.m., TLC). Will there be trouble at Bath & Body Works? A brawl in front of Tony Roma's? I must know!
At 10:30 p.m., NBC is rerunning "Ron And Tammy," the episode of Parks And Recreation featuring Megan Mullally as the bizarre, vindictive ex-wife of Ron Swanson (her real-life husband Nick Offerman). It's a truly fantastic episode, and one of the ones that really signaled just how good this show was going to get in its second season.