Tonight's TV: 'The Closer' Comes Back, Paired With A New Procedural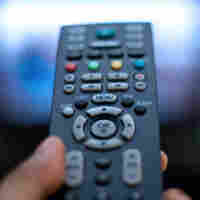 Fox continues plugging away with new episodes of scripted dramas, with Lie To Me at 8:00 p.m. and The Good Guys at 9:00. On the unscripted side, The Bachelorette (8:00 p.m., ABC), Cake Boss (9:00 p.m., TLC), Intervention (9:00 p.m., A&E) and Last Comic Standing (9:00 p.m., NBC) are among the shows with new episodes.
The biggest news of the day is probably that TNT's The Closer (9:00 p.m., TNT) returns for its sixth season tonight. It's a show that's done a lot for both the basic-cable drama boom and the actress-led drama boom (relatively speaking), and TNT is following it with the premiere of Rizzoli & Isles (10:00 p.m.), a new crime procedural starring Angie Harmon (once one of Jack McCoy's many ADAs on Law & Order) and Sasha Alexander (once one of Dawson Leery's few unfortunate girlfriends on Dawson's Creek).
Anthony Bourdain ventures into the part of the United States between the coasts on No Reservations (Travel Channel, 10:00 p.m.), for an episode called "Heartland."
And if you are among those who wish to be alerted when things go even more off the rails than usual on The Real Housewives Of New Jersey (10:00 p.m., Bravo), it appears that this would be your night.