Tonight's TV: Mary The Psychic Intuitive And A New Place For 'Parks And Rec'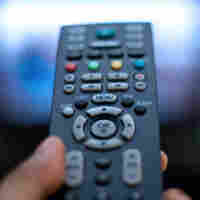 Official Wipeout Alert Level Red: New Wipeout (8:00 p.m., ABC).
USA's Burn Notice (9:00 p.m.) has a new episode; it's up against ABC's summer drama Rookie Blue and Syfy's new "docu-soap" Mary Knows Best, following Mary the "psychic intuitive." Hmm.
They're moving the Thursday night comedies around on NBC, and Parks And Recreation airs tonight at 9:30 p.m. as a result. And as it happens, they've got a terrific episode, "Hunting Trip," in which ... oh, I couldn't even begin to explain it. Give it a go.
Duff and company make a cake for 30 Rock on tonight's Ace Of Cakes (10:00 p.m., Food Network). Or if you're less into cake and more into honeymoons with pregnant women, there's always Bethenny Getting Married (10:00 p.m., Bravo). And USA follows Burn Notice with Royal Pains, while the new episodes of Futurama continue on Comedy Central.