Tonight's TV: 'Bachelorette' And 'Good Guys' Finales, 'Fish Warrior' And Sharks!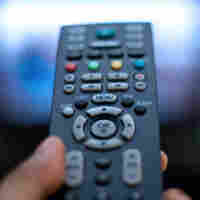 Tonight, ABC stands for "All-Bachelorette Cprogramming," as Ali gets her man and the rest of American begins the breakup countdown. It starts at 8:00. It ends... oh, sometime around fall sweeps, is my guess.
On tonight's "summer finale" of The Good Guys (Fox! 9:00!): "When Dan accidentally exposes a participant in the Witness Protection Program..." Stop right there. Sold.
In what I can only assume to be a horrible programming error, Discovery commemorates the second night of Shark Week with Day of the Shark 3 (10:00!).
What channel would you guess that a show called Fish Warrior: Colossal Catfish was on? The counterintuitive answer: National Geographic Channel (at 9:00). I know you wanted to say Syfy, but the giveaway was that there is only one type of animal in the title.
At 9:00, VH1 gives us Money Hungry, a weight-loss competition with cash as the motivator. Just by sitting on the couch to watch this, you've officially celebrated three of the seven deadly sins.
In the new-episode hopper: Lie To Me (Fox! 8:00!), The Closer (TNT! 9:00!), RuPaul's Drag U (Logo! 9:00!), Last Comic Standing (NBC! 9:00!) and Anthony Bourdain: No Reservations (Travel! 10:00!).
There is a Clay Aiken thing that's on some channel or other at some time or other, but it is in neither of our best interests for me to give you more information.