'American Idol' Returns, Led By A Sparkly, Three-Headed Randy Jackson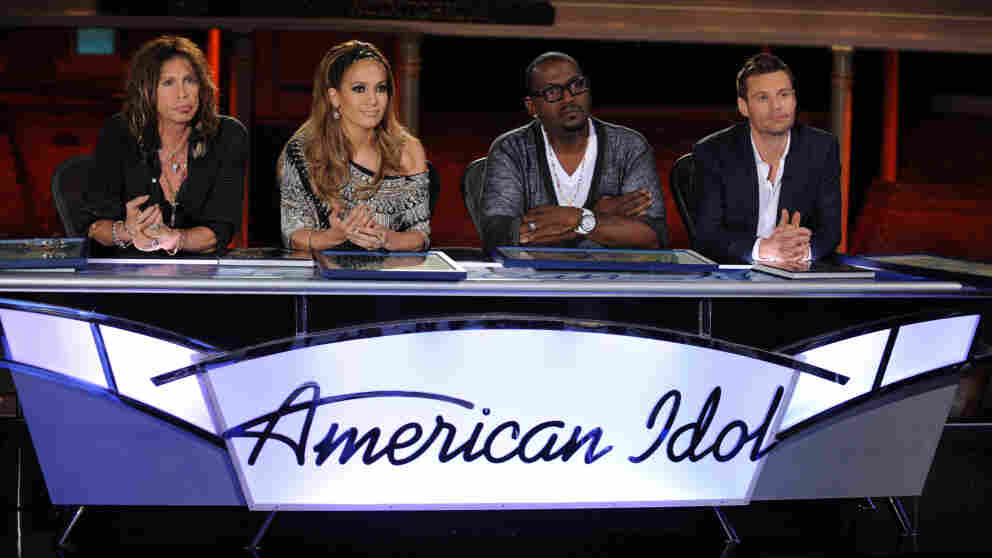 The most promising moment in the preview that Fox sent out to critics showing a handful of auditions from the two-night American Idol season premiere involves new judge Steven Tyler listening to a contestant audition and then saying, "Well, hell fire, save matches, [bleep] a duck and see what hatches."
This isn't really clever, and it isn't quite justified by the quality of the audition he's just seen, but it's something. It's weird. It's personality. And the biggest problem the show seems to have as it adds Jennifer Lopez and Steven Tyler to the panel (to replace Simon Cowell and Ellen DeGeneres and Kara DioGuardi) is that what it has wound up lacks personality. It's just a three-headed Randy Jackson with better hair and more hits.
You might expect Tyler to be crazy, but he mostly emerges as a soft touch who tries to do a little "tell it like it is," but not in a way that would make him seem genuinely mean. You might expect Lopez to be very glam or very chilly, but guess what? Soft touch. A little straight talk. Nothing that seems mean.
That's what I mean. They are all Randy Jackson.
As longtime Idol viewers know, the original panel of Randy, Simon and Paula had defined roles. Simon was mean, Paula was nice, and Randy was in the middle. Now, this didn't always hold for every individual person — Simon could be very complimentary to singers he liked, and Paula was certainly willing to tell a performer, ever so gently, that a performance didn't work.
But they each had a persona, and the person least likely to do anything memorable was Randy.
There's another telling moment with a less successful auditioner where Tyler says, "Brutally honest? Don't quit your day job." He goes on to basically tell the guy he's not a singer, but not only is that not particularly honest (in that it doesn't actually describe what specifically was wrong with the performance), but it's not particularly brutal. More importantly for the show, though, it's boring.
The reason the producers hired Tyler is clearly that he does have the capacity to say weird things from time to time, and he delivers on that from time to time, but the things he's saying don't seem to come from anything other than a thirst for mugging. They don't seem genuine, and they don't seem like they can last for a whole season. Moreover, he's not necessarily able to be weird and enjoyable without seeming like he's constantly trying to draw the attention away from the auditioner, even during the audition.
None of these judges seem capable of Simon Cowell's genuine expressions of impatience, or of Paula Abdul's sometimes endearingly weird insistence on finding the good in everyone (as in her signature move of starting every devastating critique of a female singer with "you look beautiful"). Imagining this panel taking genuine issue with each other is difficult.
There's nothing wrong with the new judges, and there's nothing wrong with Randy Jackson, except that what he says is sort of ... not very useful. This may partly be a problem arising from the fact that Lopez and Tyler have other, separate careers they're concerned about. Abdul and Cowell, when they started on Idol, were focused on that as their way of becoming famous (or at least, in Cowell's case, famous in the United States). Tyler and Lopez undoubtedly don't want to do anything that would cramp their other opportunities (a problem they shared with Ellen DeGeneres, who wound up being entirely too bland to be effective).
It won't be much of a panel if it turns out to be Randy, Randy and Randy. The other two judges share his reactions to good auditions (generous, measured, impersonal praise peppered with catch phrases — Tyler's is "WOOOO!") and bad auditions (broad, giggly glee, uncut by any actual malice).
Here's the caveat to my reservations about the new seasons: some of these auditions are fun and display talent. In particular, there's an enormously endearing moment involving a couple that auditions together (a gimmick that has usually been painfully obnoxious in the past). I cannot tell a lie: it's corny, but I couldn't stop smiling.
The role of the judging panel changes a lot over the course of a season — what they have to do during auditions from people they've never seen before is different from what they have to do with people who are progressing through the competition. That's not to mention the fact that it's a two-night premiere that's a total of three hours long, and Fox sent out a total of 23 minutes of auditions to critics. So it's much too early to know whether this is going to be a successful season or not, or whether this panel is going to work out in the end.
But based on what they've showed me so far, I'm curious to see whether, by the end of the season, Randy's got the other two saying "yo, yo, yo," too.