Culturetopia: Hard Cases Edition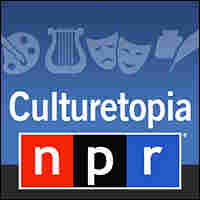 In this week's podcast of NPR's best arts stories, you'll hear a profile of the most recent winner of the Screen Actors Guild Life Achievement Award — Ernest Borgnine. (Fun fact: He was born Ermes Effron Borgnino.) The nonagenarian is perhaps best known for playing villains in classic westerns such as 1954's Johnny Guitar (and in this piece, he talks about his controversial diss of the rather more recent Brokeback Mountain).
Speaking of things Western, check out this remembrance of country-hall-of-famer Charlie Louvin, even if you don't listen to the whole podcast. It's great. Arts editor Sara Sarasohn says the last piece of tape in the piece is one of the best you'll hear in any piece this year. Don't like country? Hear some very different music from post-punk stalwarts Gang of Four. The band's released its first studio album, Content, in 16 years.
And from our series on the many cultures within American culture, a look at entertainer, best-selling author and controversial ex-husband Steve Harvey.
Subscribe here or listen below.