It's A New Peanuts Comic, Charlie Brown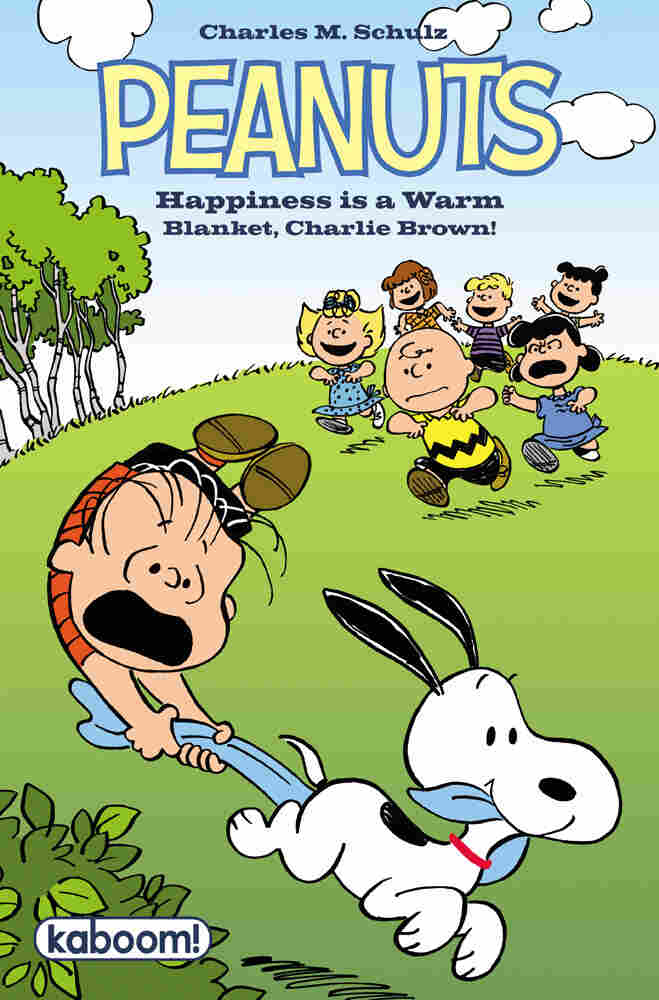 Well, sort of.
Technically, it's a graphic novel adaptation of an all-new Peanuts straight-to-DVD movie, which in turn is based on several classic Peanuts strips. Got that?
Happiness is a Warm Blanket, Charlie Brown will be released on DVD on March 29th; the accompanying graphic novel, published by kaboom!, should be in stores about the same time.
From the previews, it would seem that what we're looking at here is essentially a collection of Linus-and-his-blanket-gags strung into a narrative by Charles Schulz's son Craig and Stephan Pastis, with art by Bob Scott, Vicki Scott and Rob Zorman.
And although the art deviates not a whit from Peanuts' signature style, in the translation from strip to movie and back to graphic novel, the makers of this book seem to have afforded themselves a bit more room to play with the form than ol' Four-Panel Schulz ever did. In some cases it's purely cosmetic, adding design flourishes in the gutter between panels, as here:
Copyright © 2011 Peanuts Worldwide LLC
And in other cases there's what seems like an honest-to-Sparky formally innovative playfulness with page layout: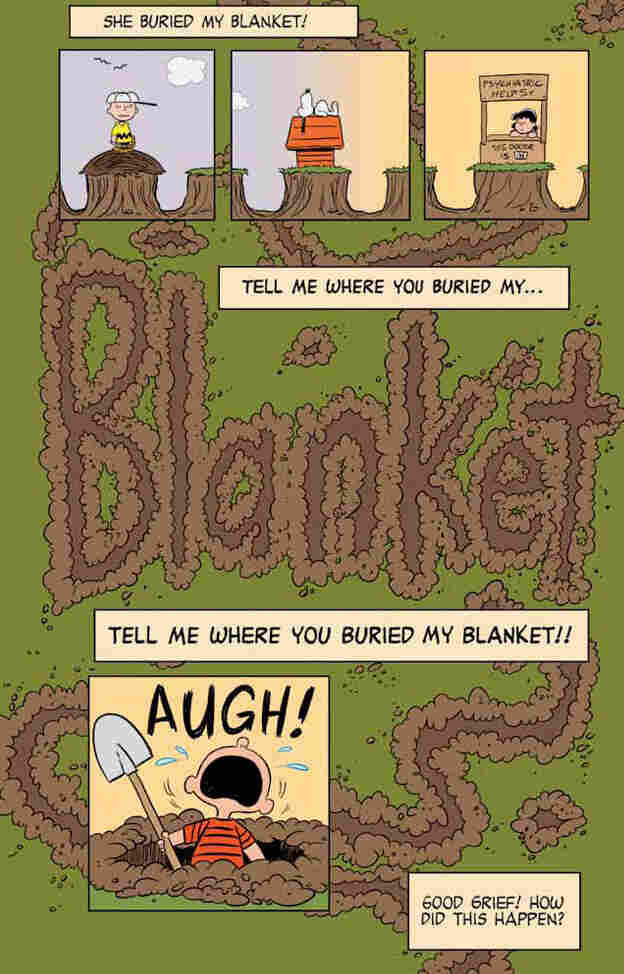 Copyright © 2011 Peanuts Worldwide LLC
Back when I was but a barefoot boy with cheek of deathlike pallor, Peanuts was my drug of choice. My friends and I would check out our elementary school library's copies of Peanuts compilations again and again. We loved them, memorized them, attempted to ape Schulz's deceptively simple style. (My friend David mastered latter-day, fat-nosed Snoopy; I never managed to draw Linus' oddly bulbous head without making him look like John Merrick in a stripey shirt.)
We had strong opinions on the Peanuts television specials. First came A Charlie Brown Christmas (for the dance number); next came It's the Great Pumpkin, Charlie Brown (for "I got a rock."); A Charlie Brown Thanksgiving came in at a distant third (for Peppermint Patty's astonishingly jerky, I'ma-invite-myself-and-two-other-people-over-for-dinner-behavior which, in the WASPy Philadelphia suburbs of my youth, seemed astonishingly transgressive).
And that was it. Oh, there were other Peanuts specials made, of course, but none had the power to excite and enthrall the way the Big Three could.
We'd joke about it, in the jaded, cynical manner of world-weary third-graders everywhere.
"It's Arbor Day, Charlie Brown," we'd say, and snicker over our Jolly Ranchers.
We grew older, and our attention drifted away from Peanuts to Bloom County, Calvin and Hobbes, The Far Side and Doonesbury. Yet still they kept churning out Peanuts specials; and when, in the 80s, the home video market exploded, it was Sherman- bar-the-door.
Because, I mean: It's Flashbeagle, Charlie Brown. Oh, 1984. You were a cruel and heartless mistress.
There follows a list of actual Peanuts specials produced between 1965 and 2006. Only four of the following are made up. Can you spot the fakes?
1. This is America, Charlie Brown
2. Be My Valentine, Charlie Brown
3. Life is a Circus, Charlie Brown
4. She's a Good Skate, Charlie Brown
5. Why, Charile Brown, Why?
6. Snoopy's Getting Married, Charlie Brown
7. There's No Time for Love, Charlie Brown
8. Someday You'll Find Her, Charlie Brown
9. That Looks Infected, Charlie Brown
10. It's a Mystery, Charlie Brown
11. You're in the Super Bowl, Charlie Brown!
12. You're Not Elected, Charlie Brown
13. It Was a Short Summer, Charlie Brown
14. It's the Pied Piper, Charlie Brown
15. Play it Again, Charlie Brown
16. Did You Ever See Old Yeller, Charlie Brown?
17. It's Magic, Charlie Brown
18. Bon Voyage, Charlie Brown (And Don't Come Back!) (FILM)
19. It's the Easter Beagle, Charlie Brown
20. A Boy Named Charlie Brown (FILM)
21. I Want a Dog for Christmas, Charlie Brown
22. Race For Your Life, Charlie Brown (FILM)
23. A Charlie Brown Angioplasty
24. He's Your Dog, Charlie Brown
25. It's Christmastime Again, Charlie Brown
26. What Have We Learned, Charlie Brown?
27. You're a Good Sport, Charlie Brown
28. Is This Goodbye, Charlie Brown?
29. It's Your First Kiss, Charlie Brown
30. Snoopy's Reunion
31. You're the Greatest, Charlie Brown
32. Happy Birthday, Charlie Brown
33. It's Spring Training, Charlie Brown
34. He's a Bully, Charlie Brown
35. It Was My Best Birthday Ever, Charlie Brown!
36. It's an Adventure, Charlie Brown
37. You're Bumming Me Out Here, Charlie Brown
38. What a Nightmare, Charlie Brown!
39. It's the Girl in the Red Truck, Charlie Brown
40. Lucy Must Be Traded, Charlie Brown
—-
The fakes: 9, 16, 23 and 37.