Skip to Main Content
What's Your Favorite Book?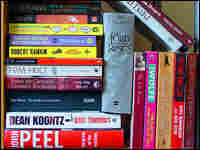 Another month, another in-depth series. For the month of August, we're tackling the black literary imagination every Tuesday and Thursday.
We're going to explore African Americans' connection to the written word and how our history and experiences shape what we read.
We want to hear from you: What's your favorite book? Who is your favorite author? And what's the one book you wish you could read again for the first time?
My favorite books are The Kybalion by Three Initiates and A Taste of Power by Elaine Brown
My favorite book changes as I read, re-read, compare, and grow older. Right now, it is Edward P. Jones' latest collection, All Aunt Hagar's Children. As someone who grew up in "black" Washington during the 1960s, I have long enjoyed seeing the world I knew and that often doesn't make it into American literature as a setting for Jones' characters. His characters, who are usually people who are unlikely literary heroes and heroines, embody the complexities, desires, and anxieties of being human. Although Jones' world is a black world, it is porteayed with so much compassion for ordinary people who are really extraordinary (my favorite story in this collection focuses on a grandfather, who had been looking forward to a retirement of travel, who must give up his dreams to raise his grandchildren because of the failures of his son)that the African American historical and cultural particular becomes universal.
Toni Morrison, which doesn't mean there aren't many other fabulous Afr.Am writers, especially impressed with the new crop of Afr Am males writing ficiton - the authors of High Cotton and John Henry Days - sorry can't recall names. As for Morrison, when I came to the end of the book Beloved, which I had been reading aloud to my husband during our vacation, as I read the last page we both wept, streams of tears wash down our cheeks. I look forward to reading other comments with recommendation of books which I will follow up on.
I loved this piece. I'm reading New England White by Stephen L. Carter and waiting for Walter Mosley's latest installment of the Easy Rawlins mysteries due in October.
My favorite book??? Is like asking which is your favorite child--- if I had to choose it would probably be Things fall apart, Chinua Achebe
I'd have to say _Nervous Conditions,_ by Tsitsi Dangarembga. Semi-autobiographical, it is a very intense novel about colonialization, the education of women in Rhodesia, and their efforts to reconcile their new knowledge with their culture and the traditions of their families. It took almost month for me to digest all that I had read in these pages and begin a new read.
Suni by Toni Morrison--a very early book but one which has stayed with me over the years--especially Suicide Day, because that date is my birthday. Love the way Suli is the center of the novel with her ambiguous character. The novel explores the shapes of love. It foreshadowed Beloved.
The Price of The Ticket: Collected Nonfiction by James Baldwin...To Be Young, Gifted and Black by Lorriane Hansberry...Blacks by Gwendolyn Brooks...This Is My Century: New and Collected Poems by Margaret Walker....Jazz by Toni Morrison...The Collected Essays of Ralph Ellison...Eden & Logic by Olympia Vernon...
Invisible Man by Ralph Ellison is most definitely a timeless classic. I re-read it ever year, taking away something new each time.
I just read Zora Neal Hurston and really enjoyed her take on the world. Their Eyes Were Watching God really opened discussion for what a woman needs and wants and should have in life. And what she would give up to be in love.
At the moment, my favorite(s)is The Life of Langston Hughes, Volumes I & II, by Arnold Rampersad. I admire both Langston Hughes and am a fan of Arnold Rampersad's work.
My favorite book is hard to name, but my favorite genre is Science Fiction. When I was in University I read and excerpt from Octavia Butler's "Wildseed" in one of our anthologies. I was blown away. It was the first time I had ever encountered a Black American who wrote Science Fiction, and a science fiction novel that was based on African characters. The same day I bought the book, and two months later I owned are read all of her books. That being said I think that the Patternist and the Xenogenesis series have to be my favorite books.
Richard Wright's novel, Black Boy, and Milking Black Bull by Vega Press are among my favorites. Milking Black Bull is an collection of work from eleven gay black poets that was among my first books exposing me to images of myself as a black gay man.
Right now, my favorite book is my own: "Daddy's Gonna Buy That Baby A Jaguar." I've had to 'fall in love' with it, a humor memoir, all over after a two-year abandonment.
Although I am African American, the themes I wrote about are universal to most Americans' comical teen and childhood years: ghosts, encounters with (dagger-toting?!) cross-dressers, kiddy petting, wet dreams and... Soul Train!
But there also are more solemn, thoughtful essays in the memoir. For example, the chapter about my unique perspective on the deadly MOVE confrontation in Philadelphia.
If our common history and experience in fact shape what we read, I'd be interested to hear your opinion of my ebook. Feel free to download a free chapter at http://squidoo.com/daddysgonnaguy
Best all!
My personal favorites include: anything by the late Gordon Parks (esp. A Choice of Weapons), Autobio of Malcom X, and Manchild in the Promised Land by Claude Brown.
Song of Solomon by Toni Morrison is required reading for every African American. It is novel that weaves our shared slave past, the civil rights movement, and a good old fashioned treasure hunt into a resplendent tapestry of epic proportion.
Cane by Jean Toomer I feel should be read by all in high school and places of higher learning. I think that this literary piece shows a great representation of race and sexual issues that young people can relate too.
It's difficult to pick a favorite book but I've had favorites and believe will have new favorites in the future. So for now, here is the list: "Arrow of God" by Chinua Achebe. It deals with the personal conflict between a father and son; old versus the new (modern) and the cost involved in embracing the new. I read the book as a sixteen year old, and the lessons still holds true.
"Poetry by Wole Soyinka" compiled by Tanure Ojaide. I love what Soyinka stood for as a person to even be jailed for his writings by his government many years ago. And I love him as a playwright and a poet Laureate.
"Cry, the beloved country" by Alan Paton. It's a story of South Africa's history and of courage, hope and dignity.
"The travelers gift" by Andy Andrews. Read this book four years ago and revisit it from time to time. It's about life lessons as seen in the hero's time-traveling with notable world heroes and heroines.
"Bridges of Madison County" by Robert James Waller. I read this book in four hours and my eyes were filled tears afterwards.
"The Awakening" by Kate Chopin. Read this little book in college for one of my English courses but kept it as part of my personal library. I may not agree with what the heroine did but I understand the reasoning and guts behind it.
And finally (for now), "Their eyes were watching God" by Zora Neale Hurston. The ironic thing is that Hurston and Chopin as writers faced the same kind of prejudice as women writers even generations apart. And the heroines of their acclaimed books also took controversial standings in such days and times.
"A Gathering of Old Men" by Ernest Gaines. I read that when I was in 9th grade and the storyline touched me as well as the setting. The story was set in a location that was close to me physically and I could vividly picture the story taking place. I still have my original copy of the book and I cherish it to this day. I'm sure if I read it for the first time today, I would have a different reaction to it as I have grown and matured over the years.
What a wonderful series! I have favorite books/authors for different periods of life, but I think my all-time favorite is Alice Walker's The Color Purple and just about anything by Toni Morrison. Other authors that inspire me include Maryse Conde and Pearl Cleage.
My favorite book is The Souls of Black Folks. It is a classic, relevant today and provides a great insight to the genuis of Dubois.
Every parent raising a child should read all of these great selections:
"Race and Culture - A World View" by Thomas Sowell
"Losing the Race: Self-Sabotage in Black America" by John McWhorter
"Winning the Race: Beyond the Crisis in Black America" by John McWhorter
"America Beyond the Color Line" by Henry Louis Gates Jr
1. Every person should understand that prejudice has always been a human trait that we need to recognize as evil and pray to rise above it and pass it on to our children. (1st book above.)
2. Give those kids expectations! They are going to do better than we did; High School Grad, College, and on even if you have a very low job.
(Keep up your good work, but don't forget those at the bottom.)
Toni Morrison's Song of Solomon and Samuel Delaney's Mad Man.
There are so many, but I wanted to focus on fiction.
The Living Is Easy by Dorothy West
Caucasia by Danzy Senna
Passing by Nella Larson
Leaving Atlanta by Tayari Jones
Truly, too many to list, but here are a few:
"Faces At The Bottom of The Well" by Derrick Bell
"Breaking Bread: Insurgent Black Intellectual Life" by Bell Hooks & Cornell West
"Conspiracies: Unraveling The Assassination of Malcolm X" by Zak Kondo
Feed your mind, save your behind.....
I agree with those of you who lament the idea of picking a favorite book. Lots of those listed already would rank among my favorites. What criteria would one use to say one book is a favorite above others? I think that is a bit of a fool's errand.
A book not yet listed but which played an important role in my radicalization as a young man: Sam Yette's THE CHOICE; The modernesque version: Cornell West's RACE MATTERS; I would like to read each of these again for the first time...very stimulating.
Taking a chance on using the cireteria of one that I read again and again (aside from my spiritual guides such as the Bible)I would have to say A. Leon Higginbotham's IN THE MATTER OF COLOR Color and Derrick Bell's FACES AT THE BOTTOM FO THE WELL. Bell is one of my favorite authors.
I'm not big on newer fiction (except Bell's and Walter Mosley) but I love the classics by Jean Toomer, Zora Neal Hurston, and Ralph Ellison.
CurrentlyI'm reading Bait and Switch, the Dog Whisperer and a biography of Denmark Vessey. Go figure!
'So many books so little time' is the problem.
It's hard to name a favorite, but the two most eye/mind-opening books I have read recently are Infidel, by Ayaan Hirsi Ali, and The Book of Secrets, by Deepak Chopra. At the moment I am reading Islam and the Blackamerican, by Sherman A. Jackson.
My favorite book is "In Search of Satisfaction" by J. California Cooper-her "In The Wake of The Wind" follows closely. I love the way she explores romance between black people, especially during times in our history when falling in love was risky on so many levels. It makes you reflect on the fact that given our history in America, what a gift and privelege it is to sustain a healthy and loving marriage. Our ancestors did not have that luxury.
By far the most anonymous and ignored TREASURE in Black lit. is Albert Murray. Duke Ellington referred to Murray as "the most un-squarest person I know." His book The Omni-Americans written in 1970 is a courageous (considering the time) and still relevant classic. If you think you know Murray's close friend, Ralph Ellison but have never heard of Albert Murray then you don't know Ralph Ellison. Many of Romare Bearden's paintings were titled by Murray. Do yourself a favor and find out who he is!
Favorites I with I could read again for the first time: The Omni-Americans; Conversations with Albert Murray, Invisible Man of course, Trading Twelves-selected letters of Ralph Ellison & Albert Murray. The return of Simple and The ways of white folks by Langston Hughes, Winning the race by John McWhorter.
THE LESSONS OF HISTORY BY WILL & ARIEL DURANT
THE GOLDEN THREAD BY PHILO MELVIN BUCK
THE GOLDEN BOUGH: BY J G FRAZER
THE ART OF WAR BY SUN TZU
THE STRUCTURE OF SCIENTIFIC REVOLUTION BY THOMAS S KUHN
THE OMNI-AMERICANS: SOME ALTERNATIVES TO THE FOLKLORE OF WHITE SUPREMACY BY ALBERT MURRAY
CAPITALISM AND FREEDOM BY MILTON FRIEDMAN
THE TRUE BELIEVER BY ERIC HOFFER
THE BEER CAN BY THE HIGHWAY: ESSAYS ON WHATS AMERICA ABOUT AMERICA BY JOHN ATLEE KOUWENHOVER
AMERICAN HUMOR: A STUDY OF NATIONAL CHARACTER BY CONSTANCE ROURKE
These are works that have changed my life.
The Autobiography of Malcolm X...Haley
Capitan Blackman...John A. Williams
Black Skins White Masks....Fanon
The Selected works of Chester Himes
The Destruction of Black Civilization...Williams
The collective works of Walter Mosley
The Collective works of Robt B. Parker
The Collective Works of Tony Hillerman
The Collective Works of Peter Straub
The Souls of Black Folks....
The Collective GENIUS of Toni Morrison
The HUSIA and MA'AT...Karenga
African Philosophy in the Pharaonic Period ...Dr. Obenga
The Collective Works of Dr. Cheikh Anta Diop
My mother was a librarian and gave me the love of books and reading.
Ankh,Wajah,Seneb,Hetep
One of my favorite books is by Toni Morrison "Song of Solomon". I have fellow book lovers who found it difficult, but I was fascinated by the characters. I also loved "Your BluesAin't like Mine" by the great BeBe Moore Campbell.
I love Octavia Butler. I've read all but one of her books, and enjoyed them all. I can't choose a favorite, cause they're all amazing.
Favourite book is The West and the Rest of Us by the Nigerian philosopher Chinweizu. The book delves into the reasons for black slavery and the domination of the West vis a vis the rest of us. Just a hugely educational and entertaining read.
Conversation with the Mann by John Ridley has to be one of my favorites. I love how he intertwines the life of his fictional main character with real-life celebrities of the 1960s.
As I read more of her works, I would definitely have to say that J. California Cooper is becoming one of my favorite authors.
I blog about other favorites at:
http://naysue.wordpress.com
My favorite book of all time, hands down (or up) is Richard Wright's "The Outsider," whose protagonist -Cross Damon- was discribed by a critic at the time as a bigger Bigger Thomas.
Best writer not able to reach his potential (early shooting death) would be Henry Lee Dumas.
Best unsung author: Ann Petry, best noted for her novel "The Street."
Although I have a lot of favorite authors, my first love is Nathaniel Hawthorne. He has woven the most beautiful prose ever written, in my opinion. My favorite is the clever way he uses adjectives and characterizes -- "delicate gems," when describing roses, a log "bejeweled by barnacles" from "Twice-Told Tales," -- I could go on forever. He is wonderful at describing not only human nature, but God's nature. The book of love letters he wrote to his wife Sophia Peabody would make any woman's heart melt!
Like a couple, fellow commenter's Toni Morrison's Song of Solomon is one of the two favorite books, along with Edith Wharton's House of Mirth. My favorite authors, meaning that I'll read anything they write are Toni Morrison, August Wilson, and Bill Watterson (do comic book authors count?). Hope the former two make the top 6 list.
Moby Dick by Herman Melville. It's da bomb. The Bible is next. Don Quixote is great - so good that I read it extremely slowly because I don't want it to end.
Oh my, oh my....FINALLY..Toni Morrison is the BEST American author of all time; of any color or ilk...Thank you for the quote from 'Song of Solomon;' my favorite of all time...and I am anglo, as far as I know..thanks again
Someone earlier mentioned Edward P. Jones' All Aunt Hagar's Children...I'd like to add another of his novels, The Known World. I could read that novel twice a year easily and, undoubtedly, enjoy it more each time. Also, John Howard Griffin's, Black Like Me, is an incredibly intense book for anyone, especially Caucasians who want to know a little bit more about the black experience, specifically in the 1950s.
I'm delighted to see that someone else has posted their favorite as Octavia Butler. I've read everything Ms. Butler wrote, or at least that I could get my hands on, and I agree that the Xenogenesis series was terrific, along with her last book, "Fledgling". A book which seems to be overlooked by Americans is "Slave" by Mende Nazer, the true story of a 12-year-old Nuba girl who was swept up in a Junjaweed raid and sold as a slave. The book not only brought me a new level of understanding about the psychological trauma(s) of slavery, but also provides a stark personal testimony to the horrors that have unfolded since the early '90's in Sudan. If this story could only make it to the big screen, I'm convinced that across the world the outrage would be so great that the government of Sudan would become history.
Just started listening to the literature series from the past month: love it! love it!
Especially the wisdom of James Alan McPherson. I'm going to pull out my copy of his short story collection so my girlfriend and I can read his "Why I Like Square Dancing" story aloud together this weekend.
I'd have to say the one book that i can vividly remember reading is Sula by Morrison. I believe she captures the essence of an extremely close friendship, while similtaneously showcasing the hard realities of life itself.
I've recently finished my graduate thesis which focuses on the disappearance of the Black Lesbian in Literature, and I have to honestly say that the book I examined changed the way I think about race, class, gender, as well as sexaulity. I analyzed several novels:
Audre Lorde-Zami
Gloria Naylor- The Women of Brewster Place
Gayl Jones-Corregidora
Rosa Guy- Ruby
Ann Allen Shockley- Loving Her
Alice Walker- The Color Purple
Ntozake Shange-Sassafrass, Cypress, and Indigo
If you haven't already read some of these, please check them out with an open-mind and heart.