Skip to Main Content
African-American Fine Art Increasing in Value
On today's show, Farai spoke with two experts about high-priced black art.
Golden State Mutual, a black-owned insurance company in Los Angeles, auctioned off their entire collection earlier this month. The works sold for more than $1.5 million; some pieces sold for three times their appraised value.
The following are some of the works that sold at prices above and beyond their stated worth.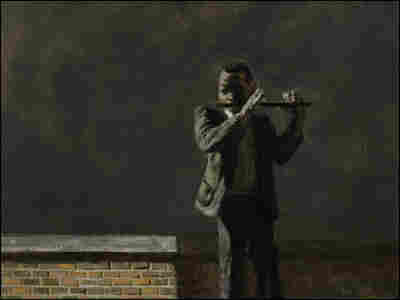 Slum Song by Hughie Lee-Smith — oil on canvas, 1944. It sold for an artist record price of $216,000 (including buyer's premium).
Courtesy Swann Galleries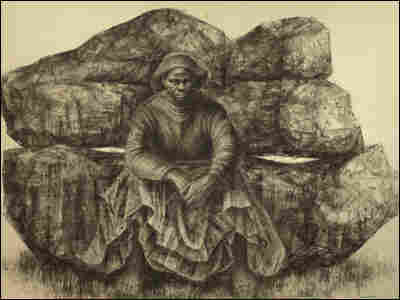 General Moses (Harriet Tubman) by Charles White — Chinese ink on two joined sheets of illustration board, 1965. It sold for an artist record of $360,000 (including buyer's premium).
Maudelle by Beulah Woodard — fired terra-cotta painted brown with white and green additions, circa 1937-38. It sold for $14,400.
The Brother by Charles White — ink on thick cream illustration board, 1968. It sold for $144,000 (including buyer's premium).
Seated Arab by Henry Ossawa Tanner — oil on wood panel, circa 1895-99. It sold for $72,000 (including buyer's premium).
Courtesy Swann Galleries
Truly glad there's a legitimate black owned gallery in Manhattan....But if he's the one with the pretentious air in his speech, tell him he really doesn't need it
Thanks News and Notes. I was waiting for more coverage of the visual arts. I only wish I had the funds to purchase some of these pieces.
Seeing these works has given me goosebumps. For anyone interested in pursuing African American Art appreciation or collecting, this story demonstrates that quality art, is out there in many of the nooks and crannies of Black America and its worth preserving.
Books and photos are nice but GET OUT TO THE MUSEUMS & UNIVERSITIES housing and displaying collections. There is no substitute for seeing the real thing up close and personal. I challenge anyone not to feel something when you see the real thing. For myself, I can feel the prescence of Samella Lewis, Mailiou Jones, Jacob Lawrence, Romare Bearden, Hughie Lee Smith, Ernie Barnes, William Duncanson, Horace Pippin, and Henry Tanner when looking at their original works. The same is true for hundreds of other fine artists of African American origin, whether they are still with us or not.
Seeing such an exhibit can and probably will widen and heighten your appreciation for all kinds of visual arts and artist from all over the world. But do yourself a favor and pledge to get up close and personal to original works of black fine art and artist over the holidays or during Black History Month. Your only regret will be that you waited so long to do it.
Request for Assistance?
If anyone can advise as to how to undertaking selling of a Benny Andrew's
original, it will be greatly appreciated.