'N&N' Hits Capitol Hill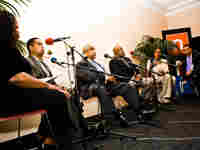 This week, News & Notes went back to the Chocolate City — yes, we are talking Washington, D.C. — for a wonderful event with the African American Public Radio Consortium, the Congressional Black Caucus (CBC), and some of our own NPR hosts.
The inspiration was a visit to NPR HQ by the members of the African-American Public Radio Consortium. Our show runs on dozens of stations from coast to coast, but the Consortium helped conceive and launch our show, and it continues to help us revise our vision today. There's also a huge overlap between the broadcast areas of the Consortium and the districts of CBC members.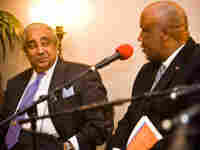 Okay, to the event...
We held it in the Rayburn building on Capitol Hill, one of those imposing structures that makes up the halls of Congress. First we had remarks from NPR folks and DC Congresswoman Eleanor Holmes Norton. Then I took the mic and moderated a panel of Representatives:
— Rep. Carolyn Cheeks Kilpatrick of Michigan
— Rep. Charlie Rangel of New York
— Rep. Mel Watt of North Carolina
— Rep. Bennie Thompson of Mississippi
— Rep. Keith Ellison of Minnesota
We had a wide-ranging conversation, from the S-CHIPchildren's health insurance program battle to how you can bridge generational divides.
THEN I got to moderate another panel, this time of my colleagues: Michel Martin of Tell Me More; Michelle Norris of All Things Considered; and Juan Williams, whose analysis appears on shows including ours and Morning Edition.
We talked about everything from covering Hurricane Katrina to covering elections ... and food ... and fashion ...and the blogosphere. (Thanks for our Blogger's Rountablers Brandon Whitney and Leon Scott for showing up.)
It was great on every level: to meet our bloggers and managers/programmers at the stations that support us; to connect with members of the CBC who we regularly have on air; and to take the pulse of Washington.
Speaking of which ... this week we also spoke with Rep. Jesse Jackson, Jr. about endorsing Sen. Barack Obama for the Democratic presidential nomination.
And there's plenty more political news to come. In fact, I feel the red carpet being rolled out over the campaign trail.