'N&N' Hits Capitol Hill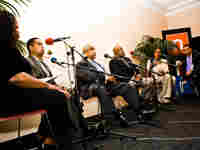 This week, News & Notes went back to the Chocolate City — yes, we are talking Washington, D.C. — for a wonderful event with the African American Public Radio Consortium, the Congressional Black Caucus (CBC), and some of our own NPR hosts.
The inspiration was a visit to NPR HQ by the members of the African-American Public Radio Consortium. Our show runs on dozens of stations from coast to coast, but the Consortium helped conceive and launch our show, and it continues to help us revise our vision today. There's also a huge overlap between the broadcast areas of the Consortium and the districts of CBC members.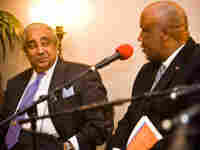 Okay, to the event...
We held it in the Rayburn building on Capitol Hill, one of those imposing structures that makes up the halls of Congress. First we had remarks from NPR folks and DC Congresswoman Eleanor Holmes Norton. Then I took the mic and moderated a panel of Representatives:
— Rep. Carolyn Cheeks Kilpatrick of Michigan
— Rep. Charlie Rangel of New York
— Rep. Mel Watt of North Carolina
— Rep. Bennie Thompson of Mississippi
— Rep. Keith Ellison of Minnesota
We had a wide-ranging conversation, from the S-CHIPchildren's health insurance program battle to how you can bridge generational divides.
THEN I got to moderate another panel, this time of my colleagues: Michel Martin of Tell Me More; Michelle Norris of All Things Considered; and Juan Williams, whose analysis appears on shows including ours and Morning Edition.
We talked about everything from covering Hurricane Katrina to covering elections ... and food ... and fashion ...and the blogosphere. (Thanks for our Blogger's Rountablers Brandon Whitney and Leon Scott for showing up.)
It was great on every level: to meet our bloggers and managers/programmers at the stations that support us; to connect with members of the CBC who we regularly have on air; and to take the pulse of Washington.
Speaking of which ... this week we also spoke with Rep. Jesse Jackson, Jr. about endorsing Sen. Barack Obama for the Democratic presidential nomination.
And there's plenty more political news to come. In fact, I feel the red carpet being rolled out over the campaign trail.
BLACK WEAKNESS LEADING TO EXTREME DANGER UNLESS ADDRESSED AND STOPPED
The weakness of Blacks worldwide is that they aren't organized in small private groups like many other ethnic groups to further their own interest. In fact Blacks /Africans can't even communicate with themselves without going through other groups networks and facilities or emails domains. These other ethnic groups have other wishes needs and desires like using the resources of Africa in future. This to them is Ok since Blacks are naive to the worlds resource squeeze as they see it. China also India with half of the worlds population alone: 3-billion out of the worlds 6-billion total is planing for using Africa's resources. I have heard various ethnic groups talk of this. Only thing, where are the future native Africans and U.S. Blacks and their future children going to be in this planned future use of Africa's resources? being I never hear talk of that point. Right now most of the world is talking about world over population, and that the weak and defenseless are now (openly) talked about being (not needed)
As long as Blacks /Africans are using their genius and research biological and engineering talents for other groups instead of their own meaning Africa Blacks and their children are headed for a danger. 'lets hope "push doesn't come to shove" for resources. Many Blacks are waking-up to the fact, also other ethnic groups if you listen, quietly and some what amusing think: "don't Blacks see that their contributions like weapons for U.S and the western world invented in cases by Blacks now can't even be used to save any Black or African groups?" Blacks have stand and watch while it's group/race dies meaning Africa. Darfur or New Orleans same group and plan by those who see Black race as weak not thinking and unorganized.
~~~~~~~~~~~~~~~~~~~~~~~~~~~~~~~~~~~~~~~~~~~~
On South Africa's murder rate,
(the real crime) is that the Whites there are in contact with the Anti Black African type Whites that love African resources (with out those pesky Africans that is) here in the U.S.. Whites in Africa are told to Not transfer skills to Africans like with the Affirmative Action programs there in South Africa. The plan or tactic is to delay and delay knowing that marginalized angry Black Africans of coarse will breed violence and give excuse to silly quotes like that of "James Watson" :DNA nut.
But the really disturbing aspect is that: Are they also stalling because of being quietly informed that another killer pathogen (disease) is on the way to take care of the naive patient Black Africans? Oh yes, conspiracy at this point yes.
But Black Americans And Africans, better demand the transfer of technical skills there in South Africa as so not be defenseless. By the way, believe it or not U.S. Blacks researched and invented a lot of biological and technical breakthrough's.
Crime Rate! The crime is not seeing the goal that's still in play by many racist like James Watson.
P.S. (no talk of nuclear plants being given to radical North African Islamic Arab countries which will facilitate the murdering of all of Black Africa)
As a community activist, blogger and freelance journalist who is also looking to cross-over into radio, this post is so important to me - in the simplest of ways. One, because it inspires me to see Farai and other journalists leave the newsroom to join or lead the community-level dialogue, a move sometimes considered a faux pas in the world of journalism.
Second, because I'd never heard of the African American Public Radio Consortium.
The only thing I will, though, is that you guys missed the NABJ conference on Political and Congressional Reporting, which happened October 19-21. But you can't catch it all, can you.