Skip to Main Content
Tupac ... Is That You?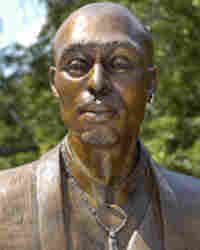 On today's bloggers' roundtable, Farai spoke with our panel, in part, about a statue of slain rapper Tupac Shakur, which was vandalized with a hanging noose.
The bronze likeness, created by artist Tina Allen, is located in Stone Mountain, Ga.
And it's getting renewed attention for another reason — some say it looks nothing like Tupac.
In our newsroom alone, we've heard comparisons to Uncle Ben, MC Hammer and actor Al Freeman, Jr.
What do you think?
The statues looked like Tupac aged about 20 years from when he was alive. Hey but you know what they say about art - it's all subjective.
That could be Tupac if he lived to be 76
I was offended by the giggling of your guests regarding the defacing Of Tupac Shaku's statue in Stone Mountain. Rendered by world-famous African-American sculptor, Tina Allen, the statue is a beautiful rendering. It stands in a beautifully landscaped park on Memorial Drive in Stone Mountain, GA. As a resident of the community, I was present at the park's dedication. Tupac's life is a teaching moment for youth who chose to live and thrive in America. Whether or not your guests appreciate his life, Ms. Saboteur in particular is inconsequential. Since no significant part of the populace know or even care about Saboteur but millions still cherish Tupac and miss him for what he might have become.
When guests cannot offer clearcut analyses of topics it might be more instructive to correct their ignorance than allow them to giggle inappropriately.
I listen to your program and only Meyers offends me as much as Saboteur did today. Please choose guests who are more saliently schooled on your topics. I was disappointed by their ignorance and schoolyard name calling. Uncle Ben indeed!
Jolynn Brooks should get a life! A few years from now no one will remember Tupac much less care. I thought the giggles from Ms. Saboteur were appropriate and refreshing, considering the topic.
I'm listening to the show online as I type. I find Ms Saboteur's giggling during both the Tupac and Obama discussions to be immature and inappropriate. In future, please choose your guests wisely.
As far as Don Nichoalds is concerned, I have a life. A life that includes community-minded responsibility. You're entitled to your opinion, sir, and I'm entitled to express mine. It is a shame that folks like you sink to simple-minded ad hominem attacks in order to make your point. Don get some consciousness, if you can manage that between giggles. And if you read further you will see that most of the respondents agreed with me, sir.
I too, was offended by the expressed amusement of the likeness of Tupac Shakur's statue made by Liza Saboteur. Saboteur went on to add insult to injury by suggesting that his mother, Afeni Shakur's Kool-Aid was spiked when the statue was erected. This lady is still alive and struggling with the murder of her son and now the vandalism of his monument -- show some respect! As we attempt to discredit the public display of nooses as a prank, but as an act of terrorism, could the jokes and laughter come at a worse time. The resemblance of Shakur's statue is not the issue here. Farai, I respect you tremendously, but stay focused. Save the jokes and Kool-Aid comments for an off-air conversation if you find it entertaining.
As for Don Nichoalds comments; I predict that as time passes Shakur's legacy will grow and future generations will regard him as a lyrical genius.
Don - really sorry you feel that way - black white brown green whatever you should appreciate Tupac's place in the world of music. He actually rapped and was talented unlike many of the artists today.
He had deep lyrics and gave voice to a real generation - not just told a generation to buy crap they don't need and call women horrible names while objectifying them. Jolynn I appreciated what you had to say and I too am saddened by people quickness to name calling and "get a life" are you three - this is NPR not CLEAR CHANNEL...<---BOO! As for the statue it is sort of a nice reflection his face looks really wise and reflective, it does not look just like him but what statue does? Yeah those bloggers were not the best to have on the show - they kept talking over each other as well.
Not to mention the inappropriateness of the comment from the gentleman basically saying come on hormones are a flowing oral sex happens - when in fact there is a question of consent.
Thanks for the space to share ideas.
The problem I have with some bloggers are their uniformed opinions. More than once I have felt that the bloggers on News and Notes have very little knowledge of the topic. I feel the same way about the roundtable. How can 3 people be experts on any and everything thrown at them. How about less opinion and more facts. Go to the source. In the Tupac noose incident for example. It would have been easier to call someone involved with the memorial than having 3 people in different parts of the country assembled to talk about something they have never even seen.
First of all it was a foolish move to even sculpt an image of 2Pac in the KKK territory of Stone Mountain GA!
Georgia is still Georgia--hasn't the Genarlow Wilson and Marcus Dixon cases of recent years taught us anything. And not just Georgia but Louisiana and most of the southeast. If the artist wanted to sculpt it anywhere it should've been done right in the heart of Atlanta. Really though it should've been done in Baltimore or Oakland where he spent his formative years. I would say his birthplace in the Bronx but that's the birthplace of hip hop and being real about it, 2Pac didn't represent hip hop culture. But the bottom line to all this is that when you sculpt or build any edifice of a Black image in a place like Stone Mountain, we shouldn't be surprised by such an act. Wake up y'all!
I think the statue is a comment on how Tupac lived life twice as fast as someone their age. 5 years in the limelight has spawned a legacy that'll last forever.
Don Nichoalds need to get a life instead of telling the person above him to get one.Tupac Amaru Shakur is a legend.if you havent already been told this...heros get remeber but legends never die.50 years from now people will still know who tupac is;maybe not as well as they do now but they will still know.you should be slaped for saying that.He accomplished more in his 25 years of living then you will in your whole life.re think what you say before you say it.
R.i.p. Tupac Amaru Shakur
first off that really looks nothiin like tupac but newayz tupac is a legend n will fa eva be so dnt get it twisted!!! his songs say it all n he will fa eva be missed by all tha peoples hearts he touched!!! i luv em so much he was (or hes) a real ... and i give em tha most undoubtable respect fa dat. tupac if u can read or here dis i luv u n will neva fa get u!!! may u r.i.p. fa eva (if ur dead). on tha plus side hes gorgeous to!!! r.i.p. bay-bee boy
yea ok it dont look that much like pac, but what you talking about no1 will remember 2pac in few years?? ill remember tupac as long as i live and so will other people so dont comment otherwise biatch
I have to say...RIP Tupac. I love the music artist and pray that his family is doing well. May he rest in peace. He had helped me through alot growing up. And i'm just a white girl from the country. The statue is a great and honorable piece of art and I think its a wonderful thing.
this realy does not loook like tupac the hanging nose and the old face realy isnt him.but i still think that is is a good think that he hase a statue of him hi was a good person and a big source of insepirasion for me
i think dats sweet i miss hym so much he was my husband and the haterz they zan fall back cuz it anit nuttin bu ttrsh that they do love ya boo!!!!!!
dis doesnt look like like him tupac is way cuter.
i would like to first say rest in peace pac as a young man father less coming in ny i took to tupac he dropped some real game on me and inspired me to better my self he went through the struggle like me so i could relate a lot to his music so much to the point were i felt like he was writing it to me but rest in peace pac catch u in the next life
Tupac was the poster child of so many inner city youth: fatherless and penniless. Nevertheless, he was blessed with an incredible talent that often got him into trouble, yet helped him eventually find his way. Tupac was an inspiration, and he will continue to be so for a long time. He is the Elvis of this generation; a monument in his honor is fitting. However, this monument looks NOTHING LIKE HIM. I must admit, I giggled when I saw it... because if it didn't have a plaque, I would have had no idea it was him. All in all, it is nice in theory, but poor in translation.
First of all, Don Nichoalds -- 2Pac has accomplished more in his short time then you ever will. It's lovely how people have all the courage in the world to say "brave" things over a COMPUTER!
For those idiots on here who have nothing better to do then comment & be disrespectful about someone who is no longer here, get a life.
2Pac was a inspiration & will be remembered ALWAYS. His music will live on for YEARS to come. And this statue should have been placed in NEW YORK!!!!
I also thought the statue made him look much older. For those of you who have the Tupac Reserrection DVD, in the bonus features there is a part called "Remembering Tupac" where various people like Snoop Dogg, Jada Pinket, and Tupac's family talk about the impact Tupac's life and death had on them. Jasmine Guy talks at one point, and says that he was "like an old soul", so maybe this is part of the reason the statue looks the way it does. To many, Tupac was aware of things in a way few seem capable of. While Tupac had his faults and did not always act with maturity, his way of thinking was ahead of its time. Perhaps this apparent older looking rendition of Tupac is meant to represent his level of thinking.
to ms.brooks, get a life and chill on the real.. trying to use all these big words.. nobody cares what you think. go somewhere else with your anger. by the way you spelled tupac's last name wrong hoe.
I honestly think this statue looks like a old man more than it looks like Tupac.
um why do they have statues of tupac if he's still alive? his new album drops next month!
hes alive...search blac haze
lac haze isn't pac you jack ass, that's just some dude with fake voice and characteristics rying to impersonate him. And as for the vandalism, he is a black man and there are still many ignorant bastards out there. But this little noose isn't gonna stop someone like pac, as dr. dre says, "pac was a real nigga" nothing will tarnish his reputation or his memories or his lyrical genius with which he still entertains the world. Bam! how's that for a goddamn comment. now shut your yappers unless you's have any good comments except for those of you who have posted good comments. good night RIP pac!!