Morning Headlines: Rev. Wright Press Tour Analysis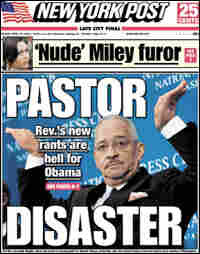 Here's just a sample of what some of the nation's papers and editorial writers have to say about Rev. Jeremiah Wright's recent media blitz:
New York Post: Fiery Rev. O's Cross to Bear — "Barack Obama's worst nightmare ... delivered his most brutal wallop to his pal's campaign ..."
Chicago Tribune: Wright's Curious Mission — "By the end of Wright's performance, you had to wonder if he was trying to torpedo Obama's bid for the Democratic presidential nomination."
Chicago Sun-Times: Wright's Words Could Leave Obama's Campaign in Pieces — "Instead of dousing the flames, the Rev. Jeremiah Wright Jr. has rekindled the fire ..."
Bob Herbert: The Pastor Casts a Shadow — "The Rev. Jeremiah Wright went to Washington on Monday not to praise Barack Obama, but to bury him."
Washington Post: The Audacity of Rev. Wright — "...it is the Rev. Wright, not Mr. Obama, who yesterday chose to further discredit himself."
Eugene Robinson: Where Wright Goes Wrong — "This media tour he's conducting is doing a disservice that goes beyond any impact it might have on Obama's presidential campaign."
George Will: A Pastor at Center Stage — "[Wright] is a demagogue with whom Obama has had a voluntary 20-year relationship."
How do you think this situation play out? What's your impression of Rev. Wright? Is he intentionally trying to throw Obama's campaign off the rails?