Feeling Pain at the Pump? It Could Be Worse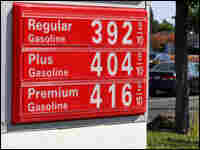 As the price of gas reaches record highs in this country ... compared to other places across the globe, paying $4 per gallon could be considered a privilege.
"Out of 155 countries surveyed, U.S. gas prices were the 45th cheapest, according to a recent study from AIRINC, a research firm that tracks cost of living data.
The difference is staggering. As of late March, U.S. gas prices averaged $3.45 a gallon. That compares to over $8 a gallon across much of Europe.
... Cheap gas prices have also lulled Americans into a cycle of buying bigger cars and bigger houses further away from their work - leaving them more exposed to rising prices, some experts say."
Check out the comparisons: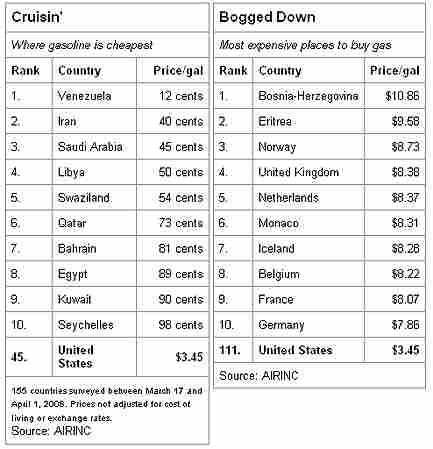 How much are you paying for gas these days? At what point will the price of gas impact your daily driving?
I'm in Louisiana, and I last filled up on Sunday. $3.44 for regular. I was in Central LA on Wednesday I saw prices as high as $3.59/gallon.
Personally, I don't let my tank get below half-full. That way, it doesn't seem like I'm spending and arm and a leg when I fill my tank.
I've also limited my running around. I plan my routes so I'm doubling back a way I've already traveled.
Statistics please. This data presented above is not very revealing nor reflective of the true state of the states. Some of the nations listed in column one above are petroleum producing states [they have oil to refine into gasoline, etc.]. Hence, they can afford to give their populace a subsidized final product price which is in line with the nations per capita income across the board. Meaning, since Venezuela produces and refines oil and its nation's economy is developing and their are few automobiles per person, it can give its citizen's a petro dividend from the state with lower prices. It is a net exporter of oil not like the usa with more automobiles, planes, etc. a net importer/consumer of oil. And, even though, the African nation of the Seychelles only produces vanilla and tourism, its price is low due to its location [less than ten hours by tanker from the Gulf] and its very small needs in terms of petroleum products. Not a massive number of cars nor land area to stockpile oil reserves.
What never gets discussed here is that the price at the pump includes the ocean shipping, the port duties, the security costs, the advertising costs and even the costs to haul the final refined gasoline from its refineries to the local pump on top of paying for the oil extraction.
To me even $7.00 at the pump per gallon is nothing since this nation has had ample opportunity to have high speed electric rails servicing developed but has failed in that regard. My peeve -when you get airline tickets with an extra $200-300 tacked on to an airline ticket as fuel surcharge, it makes you want to climb out and ride on the engine since by default you are paying for the seat and the gas in full and don't even get a meal or a decent one to boot no matter what class you are flying! Wait until you get the coast to coast $1000.00 roundtrip tickets in economy booked 3-6 months in advance in the near future giving red-eye a whole new meaning since that same flight under a seven days advance scheme may cost you $1500.00 before it is all over.