Skip to Main Content
Rev. Jesse Jackson Requests Secret Service Files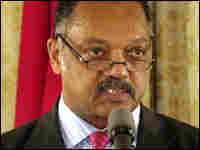 Members of the United States Secret Service are under investigation after racist and sexually charged e-mails recently surfaced. One in particular, which references two-time presidential candidate Jesse Jackson, has the civil rights leader upset. According to CBS:
"Rev. Jackson's dealings with the Secret Service date back to his two campaigns for the Democratic presidential nomination in the 1980s. He actually asked for and was assigned protective details before other candidates back then.
The Secret Service e-mail, obtained from a court filing in Washington, was titled "The Righteous Reverend," and jokes about the deaths of Jackson and his wife when a missile strikes their plane. The e-mail ends with, it "certainly wouldn't be a great loss and probably wouldn't be an accident either."
Jackson is requesting to read every correspondence that concerned him and his family, dating back to the 1980s. While the most damaging e-mails found had nothing to do with the elder Jackson, his son, U.S. Rep Jesse Jackson Jr. (D-Ill.), isn't convinced this was a one-time event.
"The Secret Service is charged with investigating threats, not initiating them. This gives you some sense, some insight, into what may be taking place there," he said. "The Congress of the United States has oversight responsibilities and we're going to be looking very carefully at what's going on there."
Should Barack Obama be worried about the level of protection he receives from the Secret Service? One lapse in Obama's security at a Dallas event left some wondering.
There is probably much of shredding and hiding going on within the beltway right about now. Jesse is one thing; but there are probably much more, too much to be destroyed between now and January.
I did have this vision during the Jackson run in 1984 where Jesse would be sitting in the White House and an aide is going through stuff pulling out all kinds of incriminating things done to Black folk throughout our time in building this continent, this America.
Back then it was only a dream.
With President Obama anything may be possible.
Anybody taking bets on who really did in JFK, MLK, RFK...