Skip to Main Content
Let's Play Six Degrees of Obama
Chalk this up to another stroke of genius resulting from one of our epic editorial staff meetings.
Everyone seemed to have a source on Obama — a friend of a friend of a ... so it seemed only fitting: Let's play Six Degrees of Obama.
Here's mine: I am friends with L.A-based actor Voltaire Sterling. Sterling is friends with TV actor Hill Harper (who's going to be on our show soon). Harper went to Harvard Law with Obama. Two steps, folks!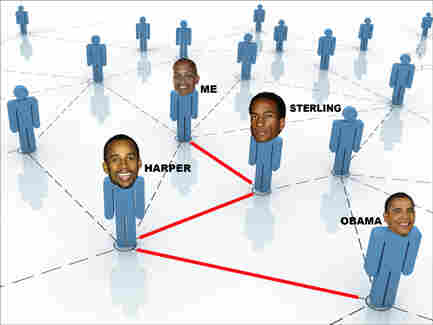 How many steps does it take for you to get to Barack?
That would be three steps, right? Or maybe you are right: two people. I am friends with a girl who used to get her hair done at the same place Michelle Obama went to. One step. Holla!
One step. I am friends with a woman who used to date someone on his staff. I also live in his neighborhood (Hyde Park/Kenwood). His house is 2 blocks from mine.
I have three one degrees and one two degrees:
1. I know HH who went to school with Barack.
2. My cousin went to Law school with HH and Barack.
3. Same cousin went to undergraduate with Michelle Obama... (became friends with Michelle and then Barack... ironically they end up marrying)
4. My friend works on his staff
You know I got you all beat. I was at his house last Thanksgiving.
I went to grade school with voltaire sterling!!!
I have an uncle that's supposed to be in a government agency; said uncle has more than likely protected or seen Obama or future co-workers...like 2 steps?