Michelle Obama Gets an Image Makeover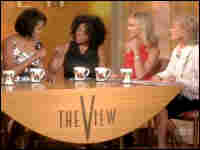 Potential First Lady Michelle Obama appeared on The View today.
The New York Times — in an article about her "image makeover" — says her guest hosting stint was done "with an eye toward softening her reputation."
But a new ABC News poll shows Mrs. Obama leading "the less well-known Cindy McCain" in favorability ratings:
Forty-eight percent of Americans in a new ABC News/Washington Post poll see Obama favorably, vs. 39 percent for McCain, a 9-point Obama advantage. Slightly more, though, also view Obama unfavorably — 29 percent vs. McCain's 25 percent.
To what do you attribute these numbers?
Take our poll:
Flashback: Michelle Obama on American Pride