Who Won This Fight? Spike or Clint?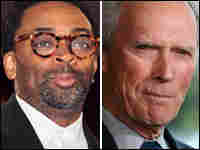 This dust-up started when Spike Lee said this about Clint Eastwood:
"He did two films about Iwo Jima back to back and there was not one black soldier in both of those films," Lee said. "Many veterans, African-Americans, who survived that war are upset at Clint Eastwood. In his vision of Iwo Jima, Negro soldiers did not exist. Simple as that. I have a different version."
Then, Eastwood replied:
"[He should] shut his face." Eastwood said his 2006 film Flags of Our Fathers was historically accurate. The Oscar winner insisted that black troops were not involved in raising the flag at Iwo Jima. "If I go ahead and put an African American actor in there, they'd say 'this guy's lost his mind,'" he said."I'm not in that game. I'm playing it the way I read it historically, and that's the way it is ... When I do a picture and it's 90 percent black, like Bird, I use 90 percent black people," said Eastwood, referring to his 1998 film about jazz musician Charlie "Bird" Parker.
And Spike hit back with this:
"First of all, the man is not my father and we're not on a plantation either ... He's a great director. He makes his films, I make my films. The thing about it though, I didn't personally attack him. And a comment like 'a guy like that should shut his face' — come on Clint, come on. He sounds like an angry old man right there."
So who won this war of words?