Beyonce Looks Lighter In Latest L'Oreal Ad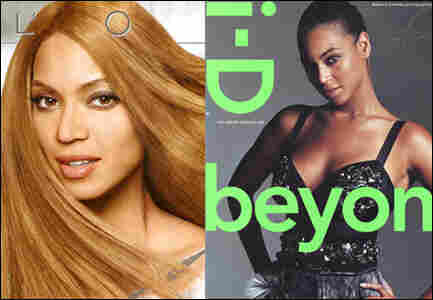 [L'Oreal Beyonce (left) compared with normal Beyonce (right)]
L'Oreal, the world's largest cosmetics maker, is denying that they lightened singer Beyonce's skin tone for a recent magazine cover. Following the allegations, reps for the Paris-based company had this to say:
"We highly value our relationship with Ms. Knowles. It is categorically untrue that L'Oreal Paris altered Ms. Knowles' features or skin tone in the campaign for Feria hair color."
It's obvious, when comparing Beyonce magazine covers, that the L'Oreal version is lighter. Do you feel the modeling and fashion world favors lighter toned models? Don't forget to throw in your favorite conspiracy theory!
Are we to assume that Beyonce is not taking a skin lightening product. Also, maybe the photo-shoot-set was heavily illuminated.
This whole thing is a colossal waste of time, space and an insult to the intelligence of everyone involved. And it further perpetuates unnecessary racial tension. Get a life, Folks!!
The obsession with color in the black community is insane. Lighting can have a huge effect on a photograph. NPR used to be better then this.
It's obvious that Freema has never been victim of black on black racism, but that's not the point here. I'm in the cosmetic industry and i can tell you from experience that "Photoshop" is a pretty common thing... which sucks for dark skinned ladies like myself.
I expect more from News & Notes. Has NPR been bought by Viacom?
She is a light girl so I don't think it really is cause for all this hoopla. It is interesting though that no one is pointing out that she's a spokesperson for a product she can't possibly be using. I know a lace front wig when I see one!
Hot either way...I just wonder what her natural hair looks like?
now now..of course the tone was altered to substantiate the "lighter-whiter-bleached" motif is beauty personified. the french are no more racist than anybody else...so what? the advert is not directed towards africans to support the company but more to those hypocrites who a light but think tan looks more healthy so they rush off to tanning palors...i mean how many africans do you see lining up for tanning palors?
But then africans cannot complain much since a whole host of african woman globally go madly rushing to spend their hard earned moola to straighten their natural or kinky hair and colouring it all sorts of ways to be "in" i support with their peer group or to submit to what a perceived as eurocentric norms of attire and presentation. The fallacy is that these same women get upset and all bent out of mental shape when after years of hair flattening and colouring their would be male spouses and partners start migrating over to "innate" blonds, redheads, etc. They set the paradigm, culture the what-looks-good norm and then get upset when the one they thought to attract goes to the maximum of where for years they have directed them. go figure! But back to the point, the european french women are jealous of their sibling creole francophone island women and always attempting to achieve that creole look since their males tend to wander in that direction. This looks is typically creole and airbush since everybody has some kind of imperfection from pimples, and skin problems and this look from L O aint got none so... VIOLA! enhanced!
You women folk better be more smart with your quest and standard of "beauty" less you go the way of Stella Obasanjo or Mr. K West's mother chasing something that aint worth your next breathe for nothing.
For one, that isn't even Beyonce's hair! So, why is she coloring her hair when she can simply get a weave of a different colour? Also, if you watch video of Ms. Knowles, you will see she is nowhere near as dark as the example nor as light as the L'Oreal ad. Why? Its called "lighting." The "too light" Ms. Knowles can also be the result from cosmetics, film developing, and the photographer going by memory as to the proper colour of the picture. There could be too much blue, or too much red... many variants. It does not mean L'Oreal intentionally tried to make Beyonce look white, but they certainly have her looking too light. The hair colour is also very bad, the eyebrows look strange- its just not a pretty colour. Too much hoopla about it, however, as you can't prove "intent" on the part of L'Oreal in doing anything wrong or being racist.
Iman, Naomi Campbell, and Grace Jones... all dark skinned, successful models
Another case of blaming the "man", White companies, and everyone else for our own failings.
BET, Black-backed movies, hip/hop videos began this trend of promoting the lighter is better. But of course we can never blame Black folks because it will make us "feel bad" about ourselves. Yet, we love to jump at any chance to attack non-blacks who copy these same methods. Self-exploitation is our moto.
If you notice, non-Blacks are the ones who actually celebrate and appreciate darker-skin women. Iman, Naomi Campbell, Grace Jones were all made famous by White Europeans, not Americans, and not African-Americans.
Tyra Banks on the other hand (being light-skinned, with light eyes) became famous in America. I can count on one hand the number of dark-skinned women who have made the cover of Jet, Esseance, and other Black magazines.
Dark-skinned men are viewed as the ideal of male beauty, light-skinned women with European features are viewed as the ideal of female beauty, Black-America has set up these guidelines and are the guilty party.
We have defined Dark-skin with aggression and power thus such features are seen as positive and respected traits in males. Dark-skinned women on the other hand become the "angry-black and unattractive woman".
I for one, I am glad that Michelle Obama is currently on the world stage to show American Black girls that beauty comes in another shade other than light-skinned. A counter force to Black media and Black-owned magazines.
*******************************
"the european french women are jealous of their sibling creole francophone island women and always attempting to achieve that creole look since their males tend to wander in that direction."
***********************************
The above statement is another myth aimed at promoting false-confidence in American Blacks. Some men are always attracted to the so called "exotic" whether it's mixed women, asian women or East-Indian women.
The definition of White beauty changes with time. There was a time when pale-skin was the model for an attaractive white woman, now it is tanning. White women like white men are in a position of priviledge and they know it. They are not waking up in the morning saying, God I wish I was Black or going to plastic surgeons trying to get Asian eyelids.
Like all women in the world, they are trying to fit in with the ridiculous standards of beauty defined by their time. Risking skin-cancer, pre-mature aging, and unhealthy eating to follow the picture that white media is currently pushing.
Let's get our facts right, neither L'Oreal nor white women are to blame for Beyonce. She is afterall the product of Black media.