Skip to Main Content
Convention Season Begins, Our Coverage Continues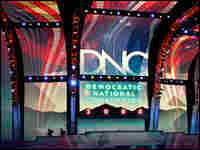 Beginning today, through next week's Republican National Convention, News & Notes' special convention coverage continues here on our blog.
We'll be featuring two special guest bloggers, who will offer their perspectives and a little firsthand reporting from the convention floor. And on Thursday, when Obama accepts his party's nomination, we'll host a live online viewing party (more on that later).
In the meantime, check out these useful DNC-related resources.
Program Schedule | Delegate Profiles | Photos | Full Coverage
I have been listening to the Convention tonight on your station and am very disappointed. I had hoped to hear all the speeches, not just the ones you want to cover. Instead I get just more talking head chat. Chat, chat , chat while leaders of this country are speaking about this election and the hoped for future of America. It would be OK if you would do this only when nothing else is happening but you think what you are doing is more important than history being made. You are walking all over this convention and I find that disturbing.
The giddiness of your reporters is embarassing. We'll see what their demeanor is at the RNC.
So who did you want for vice-president?