Two Opening Ceremonies, Two Very Different Games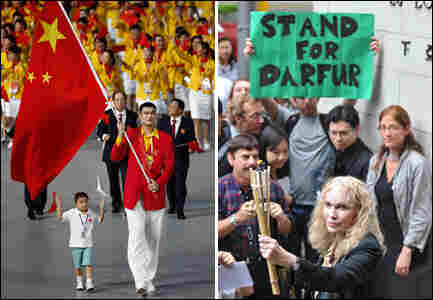 Actress/activist Mia Farrow has her own idea for an Olympic opening ceremony.
Via Web cast, she's showing "Darfur refugees in the barren deserts of eastern Chad playing sports on sandy fields. ... Human rights groups, including Farrow's Dream for Darfur, have been using the Beijing Olympics to highlight accusations that China's close ties to the Sudanese government are helping fuel the bloodshed in Darfur, where the U.N. says up to 300,000 people have been killed." Read the rest.
What do you think of her chosen form of protest?
And will you be watching the 2008 Beijing Olympic Games? I have to say, for some reason, I'm about as excited for these Olympics as I am for a rerun of, say, 227.
NPR, are you kidding me? You want to compare this amazing Olympic opening ceremony with the silly event by a so-call activist/actress that no one knows????
Yes, NPR, I have watched tiny bits of the Olympics. There are so many layers to the "Olympic phenomena" (the unaccountable IOC, the Olympic machinery that diverts billions away from true human need -- I live in Vancouver as it prepares for the 2010 Games), and one is the incredible capacity of the human spirit -- perseverance, determination, focus, etc, exemplified by the true athletes. It's the only one worth watching.
And even so, with all due respect to the athletes tremendous dedication and sacrifice, it still pales in my mind compared to a person like Daoud Hari (book: The Translator) who suffered rifle butts smashing his head, being shot at, having all his fingers broken, being seconds away from someone pulling the trigger to his head, being tortured, etc, all to bring journalists to Darfur, knowingly doing and suffering this, day after day, in the hope that eventually the atrocities of Darfur could end. His 'motto': "To not die, that makes for a good day!"
So, in fact, hiki, there are many people like me who know Mia Farrow, George Clooney and others and their attempts to highlight Darfur's plight. I have watched all her alternative Olympic pieces. Of course it is a drop in the bucket compared to the 4 billion who watched the Opening Ceremonies. We have a propensity to love spectacles (it's in me, too). But those most deserving respect, are those putting their lives on the line, throughout the world, attempting to truly make this world "One World, Authentic Dream"!