Skip to Main Content
Brazile to Lieberman: 'Payback's a B*tch'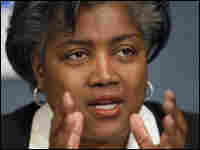 Independent Senator Joe Lieberman might want to watch his back. Democratic strategist and News & Notes contributor Donna Brazile is fuming over his RNC speech.
According to New York magazine's Web site:
Shortly after Lieberman addressed the RNC, we ran into Donna Brazile, Al Gore's presidential campaign manager, and asked her what she thought. "I was not impressed with his speech," she said. "I'm disappointed. I was the one who went to Al Gore and said 'Joe Lieberman.'" Does she feel betrayed? She paused and sighed, and said she wanted to save her thoughts for her Washington Post Roll Call column. "I've got to have it in my own words, because you don't know the history. It's personal. But you know what, dog?" she added, cryptically. "What goes around comes around. Payback's a bitch."
Eat um up Donna. He is a shady benedict arnold and I am no Democrat.
Lieberman's speech put me to sleep the other night, literally.
I woke to a soft pleasant golf clap applause to Joe Lieberman's closing remarks.
Good work Joe but be advised, you're gonna lose your committee chairmanship.
Got to be!!
So an anti-life hypocrite --as a self-described Catholic, a hypocrite is exactly what she is-- can cuss, and it's all good. When Dick Cheney cussed, it was faddor for endless editorials.
Donna will be in my prayers. Given her anti-life record, she'll need all the prayers she can get when she meets her personal judgement and finds out what payback really is.
Wait until he finds out Palin's anti-semitic platform. The people of his home state are responsible for his behind even being back in Washington. I hope they will vote him out next time around AND STICK TO IT! He's a Judas.
Speaking of dogs and payback, I was particularly taken by Palin's self description that she was a PitBull. For the life of me, my mother never inspired us to become, act like, model or duplicate a female dog. In fact, we thought of it much like the payback that Lieberman surely deserves. But, birds o a feather.