The Tax Man Cometh ... To Church?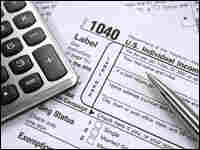 Should churches be able to campaign directly on behalf of candidates, while maintaining their tax-free status?
The socially conservative group, Alliance Defense Fund, thinks so.
The group, according to the Washington Post, is recruiting pastors to endorse political candidates from their pulpits on Sept. 28, "in defiance of Internal Revenue Service rules."
The effort by the Arizona-based legal consortium is designed to trigger an IRS investigation that ADF lawyers would then challenge in federal court. The ultimate goal is to persuade the U.S. Supreme Court to throw out a 54-year-old ban on political endorsements by tax-exempt houses of worship.
Yet an opposing collection of Christian and Jewish clergy will petition the IRS today to stop the protest before it starts, calling the ADF's "Pulpit Initiative" an assault on the rule of law and the separation of church and state.
Backed by three former top IRS officials, the group also wants the IRS to determine whether the nonprofit ADF is risking its own tax-exempt status by organizing an "inappropriate, unethical and illegal" series of political endorsements.
The battle over the clergy's privileges, rights and responsibilities in the political world is not new. Politicians of all stripes court the support — explicit or otherwise — of religious leaders. Allegations surface every political season of a preacher crossing the line.
What is different is the Alliance Defense Fund's direct challenge to the rules that govern tax-exempt organizations. Rather than wait for the IRS to investigate an alleged violation, the organization intends to create dozens of violations and take the U.S. government to court on First Amendment grounds.
A game-changing factor in this fracas: the Web, namely YouTube, where many churches are now posting Sunday sermons — including those with political overtones. Here's more from the New York Times:
It is unclear whether the accessibility of evidence on the Internet will produce more or speedier investigations. So far this year, the rate of new cases the revenue agency has pursued roughly matches that in the campaign years of 2004 and 2006 — when there were about 100 annually, according to Nancy Mathis, an agency spokeswoman.
"What is so fascinating here is that the Internet is instantaneous, and the government is slow," said Frances R. Hill, a professor at the University of Miami School of Law who specializes in nonprofit tax law. "Whether this will speed the government up in the use of its authority remains to be seen. Clearly, what church groups used to spend a lot of time and money doing with voter guides they can now do in a rapid, cost-free way."
Share your thoughts.

(1)Seperation of church and state is crucial (or should be and should have been) Idiologies are not entitled. citizens of the republic are. Churches that are exempt... have chosen to 'opt out'!
I attend christian services but don't care to have pastors to politicize the pulpit.
In my opinion it's against christian principles.
Sarah Palin doesn't seem to think so, she politicizes the pulpit and alter that most christians deem holy.
The republican principles based on chritian values get hazy when denouncing illegitimate pregnancies and pushing ideologies on America that eliminate choice and the will of individuals; then Palin's daughter is pregnant with an illegitimate child.
Palin's abstinence message falls on deaf ears, if it doesn't resonate in her home, why would she expect her message to resonate in America?
As Bill O'Reilly describes Britney Spears illegitimate pregnancy as the fault of the parents, so it applies to the Palin's.
Any Church or religious group should be allowed to publicize their political views and advocate for candidates. But, of course, they MUST give up their tax-exempt status. That is the law as it reads now, and it seems fair enough for me.
We should probably tax churches period, just to help resolve our budgetary imbalance.
The lawyers from the Alliance Defense Fund should be investigated for advising the church leaders to do something blatantly illegal.
The First Amendment says nothing about limiting political speech. That is an imposition made by Congress and the IRS. The First Amendment right to Free Speech should trump statutes and regulations intended to regulate free speech in churches. The reason we give them tax-exempt status is not to keep them from speaking about political issues, but to encourage the good work they do in our society virtually free to our citizens. Churches don't cost the taxpayer a dime when they open hospitals, send relief teams to hurricane-stricken areas to clean up, provide soup kitchens for the poor, provide after school programs for at-risk youths, etc. ad infinitum. All these benefits inure to our citizens, because they don't have to pay more in taxes for some government agency to provide these services. The government should NOT be allowed to abridge one of the most basic rights under our Constitution--freedom to speak freely--just because it doesn't like the content of the speech. Our Supreme Court decided long ago that content-based restrictions on speech are unconstitutional.