What Did You Think Of John McCain's RNC Speech?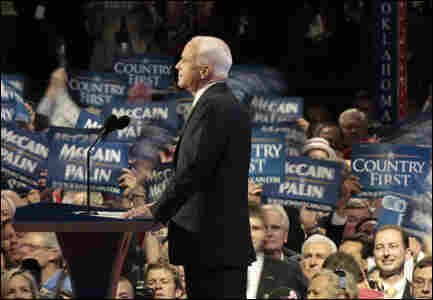 Republican U.S presidential nominee John McCain speaks during day four of the RNC. / Credit: Win McNamee, Getty Images
The AP's David Bauder said John McCain's Republican National Convention address was "marred by some demonstrations, a technical glitch and a plodding delivery." Fox News said McCain "stressed his military service." A major paper in McCain's home state of Arizona said he "fired up his party." And CNN's Jeffrey Toobin said it was "the worst speech by a nominee that I've heard since Jimmy Carter in 1980."
What did you think of his speech? In case you missed it, watch it here.
Very uninspiring, let's face it, McCain is not a orator.
He pushed his military stories we've heard 100 times over.
Yes John, we know your story, speak on substance. He didn't deliver and spoke of change he's never been a part. He's record speaks for itself.
McCain spoke in general terms while Obama and Biden laid out plans.
Excerpt of Barack Obama's acceptance speech pointing out republican failures and failures to come.
"that old, discredited Republican philosophy -- give more and more to those with the most and hope that prosperity trickles down to everyone else.
In Washington, they call this the Ownership Society, but what it really means is -- you're on your own.
Out of work? Tough luck.
No health care? The market will fix it.
Born into poverty? Pull yourself up by your own bootstraps -- even if you don't have boots. You're on your own.
Well it's time for them to own their failure. It's time for us to change America." - Barack Obama
Last night we saw the video of McCain's military service and through his speech heard more of the same.
Extremely self serving with no substance, reach across the aisle in bipartisanship, after three days of smearing democrats is very contradictive to his message of unity.
I want to know exactly what about being in the armed forces gives him an edge...
is it the ability to follow orders blindly?
is it the ability to shut down sensitive parts of his brain to cope with tramatic experiences?
is it the participation in the other major American failure in recent history that makes him qualified to lead the current American blunder?
"Never Served - The other white guilt"
Just might work guys, most people can't fathom questioning these things. It's "unpatriotic" right.
"On his campaign bus recently, Sen. John McCain told reporters, "I hated the gooks. I will hate them as long as I live." Although McCain said he was referring only to his prison guards, there are many reasons why his use of the word "gook" is offensive and alarming." (http://seattlepi.nwsource.com/opinion/hongop.shtml)
Its a good thing the republicans have the media in their pocket or stuff like this would surface to the masses.
Proof that McCain is another hypocrite Christian. He'll hate his enemies till the day he dies (which at his age isn't that far away - Palin president? VERY likely)
His speech suffers from the fact that all these issues he's trying to "change" were caused by his OWN PARTY over the past eight years.
He and the rest of the GOP mock Obama's "hope" and "change"... all while using those same words to promote their own ideologies.
A lack luster end to a lack luster RNC.
I think Mc Cain's speech was mostly dull with some bright moments in between. But it really lacked substance and was incoherent. He really has to stop playing the POW card and look beyond it if he wants to reach independents like me. He needn't be a great orator but at 72 he must be able to put more meat on his arguments for change rather than sounding like an adolescent.
Someone please stop them before we have to endure 4 more years of this mind-numbing nonsense.
Funny how all of the above comments seem to come from the liberal edge...
I say Grumpy Grampy knocked 'er right off the picnic table!!
(and the craven use of the smoldering Twin Towers was such a thoughtful touch)
PS: not to mention all that Pavlovian 3-syllable barking at the end of every other phrase.
Just a waste of time. Same old Repiglican lies and slanders. Why should we trust the same party that controlled washington for the last decade to do change themselves? The stories about his war captivity is getting very old. Do you think Eisenhower bragged about his role in WWII during his runs for the presidency? NO! And his experience (supreme allied commander, coordinating several hundred thousand troups from several nations) actually had some bearing on his ability to run the US. There was nothing to praise and everything to condemn in this speech.
Embarrassingly unskillful; pitiful actually.
McCain is a war hero. He's also one of the few politicians who actually reaches across party lines when he thinks it is the best thing to do for the country. While his speech was delivered with Bush-esque eloquence, it still did a good job bringing that message.
The problem is, that's not gonna be enough. At best, McCain can offer to reform the highly unpopular Republican brand. Obama can offer to reform the country.
A disaster. Just like the rest of the convention. The Republican Party is in a parallel universe where all has been well in the world...peaches and cream. There is a reason why Bush doesn't like him and now it is crystal clear as to why. He is both erratic and dangerous. A President McCain would have what remains of our all volunteer force and a draft instituted and them fighting Russia and the whole Middle East over God knows what. No, Senator McCain, we are all NOT Georgians!
I think i can't present McBush speach by now. boring-boring-boring. A presidential canidate that can't represent himself. Is there anyway they can flip the strip, Put Palin on the top
and Mc-Bush can just stand there looking like a fish that been out of the water to long.
McCain is definitely not a great orator. ..He didn't say anything that stuck with me and say much about how he was going to change anything. I appreciate he fought for this country, but I think the man is exhausted himself and is way too old to be trying to run for president. And heaven forbid if something does happen to him, I would feel completely uncomfortable with Palin running things..point blank! She hasn't proved herself to me at all!
McCain speech was boring. He talking about terrorists seems like only America as a country is under threat. This is a global issue now and he should have tackled it as such. The way he approached it, as he is not afraid of them and ready to face them because he have everything at his disposal seems he can solve this global issue alone. Referring to the Russian president as a corrupt leader was below the belt. The fact that you disagree with the system he runs his office doesn't make him corrupt. Next time he shouldn't use such platform to attack world leader.
McCain speech really did not appeal to me. He spoke about his personal experience often. I felt as if he referred more to himself than the American people. He also seemed as if he was in a box. He really did not keep me enthused in what he was saying because of his tone. His proposals were not that intense for those in the middle class. I really disagreed about expanding nuclear plants which would lead to more drilling. McCain would scare me if he became president because he did not seem confident enough to say a speech which would question me his ability to actually lead our country.
McCain wasn't quite as energetic as senator Obama, but he definitely has the experience and tenacity to lead America for the next four years. McCain is all about the American dream and letting Americans keep what they earn. McCain has a voting history and was in office when 9/11 happened. Obama was sitting on his couch watching the towers fall while McCain was in Washington trying to catch the ones responsible. McCain is definately the best candidate for president.
McCain appeared to be talking around topics in order to elongate his speech. Though he made several good points throughout, many times he was found to be repetitious and off subject in my opinon. After a series of dedications, he began to speak on the topics as to why he should be elected. He understands the fact that at this time the republican party could have better leadership qualities and he reassures the people change. He intends to get the country back on the road to prosperity and peace as well as making the government start working for the people again. By accepting the faults of the republican party, it showed a strong will to want to change. McCain touched on subjects such as the recession and corruption in the government, both of which are happening under his political party. Apparently, he is prepared to fight to earn back the trust of the american people. He appealed mostly to the high to middle class audience, but still mentioned issues such as cutting government spending, creating jobs, and extending healthcare plans to those in need. All in all, McCain has some positive ideas for America but failed to express them clearly in this speech, he instead included many pointless accounts that have little to do with his presidency.
John Mccain has a lot to battle against in his campaign for president. He is nominated to the party that has held GW Bush in office for 8 years and today his approval rating has never been lower. Mccain trys to lessen this effect by not even mentioning Georges name in his acceptance speech but only recognizing the 41st President. Mccain is aware that far right voters are on his side and tried to appeal to the independents in his acceptance speech to gain the votes he needs. He is also seen as very boring and may have over used the word fight in his speech to get people excited about him. He does not attack Obama but sticks to his points.
Response to McCain
McCain's speech was definitely more traditional. The attitude, tone, and stance of John McCain was not as captivating as Obama but that is not the point. The point is what he will do for our country. Whenever he promised something he would use the phrase "as much as I can" such as when he spoke about lowering taxes saying "I will cut taxes as much as I can" and never promising something outrageous that he could not fulfill. I truly had more respect for McCain because he respected Obama by hardly ever slashing him. That's a man of integrity, and if I had to choose between a man who could speak well or a man who is of great respect and honor... well obviously that is an easy choice. He never threatened or attacked any particular person or party during this speech, McCain simply was informing the country of his policies and why he is the better choice. He did mention his veteran story, which I agree is overplayed, but it is who he is. If I ever was a POW and spent that long of a period of time in a dungeon where I broke my arms and a leg I think I would be willing to tell that story pretty often. You have to admit, it is a pretty awesome story.
The majority of John McCain's speech focused on the war and military strength abroad. McCain did mention a few domestic issues such as keeping taxes low, cutting government spending, and creating more jobs. McCain's strength lies in his knowledge of military strategy and how to run a war. I believe our soldiers will stay safe under the leadership of John McCain. I feel that neither candidate has it all. Barrack Obama's strength lies in domestic policy. McCain doesn't know as much as Obama about domestic issues, but he knows a fair share. Obama knows nothing about foreign policy. McCain at least knows something about each of the major political topics.
The McCain acceptance speech was just that an acceptance speech. The speech itself didn't really present any major ideas or plans to change our economy. During his speech he beat around the bush instead of actually presenting the topics important in the upcoming election and reassuring voters that he had a plan in mind to change the things that need change. The speech was the time for him to express to the people and supporters his intentions and goals for his potential presidency and I don't think that was fully addressed. The message that was intended was not really sold and could have been better.
I think that it is obvious that McCains speech was not nearly as touching as Obama's speech, but to be realistic that isnt the most important aspect of the speech. When he devoted about 7 minutes to telling the audience short personal stories of random people, he seemed extremely uncomfortable and unnatural. Where those stories even real?!? He said we should use our community colleges for training, and I think its an awesome idea. But Im wondering how he thinks everyone to pay for it, is he going to pay for the extensive training?
John McCain had a very enthusiastic crowd. He has a very inspirational story of his experiences in Vietnam, but that is becoming overused. McCain's speech mimicked Barack Obama's speech closely with some deviations in his plans (like with taxes, education, health care, etc.) McCain also did not mention what he wants to do with the rich and emergency management field. He encouraged the citizens of America to serve in some shape or form, which I found to be a very good element in McCain's speech, and I know from personal experience that it's one of the best ways to get endeavors done.
John McCain's Speech was very traditional. He addressed the issues with a very conservative attitude. Unlike Obama, He didn't address Obama in a negative way. Instead, he addressed him as "my opponent". His speech was more realistic. Although his speech was more realistic, it didn't grab my attention. I agreed with him when he said "no success has come without a good fight". To make his speech more personal, he told stories of his life and how he was a war veteran. I thought it was very touching but it didn't convince me because of the lack of sincerity. Overall, his speech was decent.
When McCain was speaking, he didn't keep me interested. I understand that he's older and his arm is paralyzed, but his speech was very hard for me to focus on. I felt like the majority of his speech, or at least what I remember the most, was about him being fighting and being in Vietnam. I get that that's a big part of where he's coming from and what he's all about, but he shouldn't put a big emphasis on it. I don't think McCain spoke enough about the issues, he mentioned them and said one or two additional things about them. He said he was going to open new markets and create new jobs and stuff but I didn't catch on to how specifically he was going to do everything he intended to. One of the things I remember him saying was how he helped a Latina girl or family or something like that, and it just sounded so weird coming from him. It made it seem like him helping out someone Latina was such a big deal. Also, whenever he would criticize Obama, he would do it in a way to make it seem like it was okay just because he wasn't coming out and saying his name.
In McCain's speech he spends a good amount of time talking about bettering the school systems in the U.S.. As a college student, I have had to deal with public schools for about thirteen years. McCain talks about using our community colleges as a place to train people for different opportunities in their community. This is a great idea, this would give people the tools and skills they need to succeed in a learning enviroment. He also talks about weeding the bad teachers out of the school systems and bringing in better, more qualified ones. This will help students learn in a more enjoyable enviroment. Rather than having a teacher who would rather be at home than teaching their class he would bring in teachers who are enthusiastic about their jobs and filling their students minds with the information they need to succeed in life. To me these points are going to make education better in the United States.
In McCain's speech, I don't think that he addressed the issues like he really wanted to. Of course, Obama and McCain have kind of the same concepts that they want to accomplish, but I think that he addressed his in a way like " I've been fighting for this country for a long time and when president, I will continue to do so," type of way. Even though we pretty much all know what each candidate wants to do, I don't feel McCain really stated what he wants to do and how he necessarily was going to make it happen.
McCain's speech was not very enthusiastic, because he just stood still and paused a lot, this makes it seem like he is a very nervous speaker. Even though McCain doesn't seem like a strong speaker he does address good issues that he will either change in America or keep the same. He clearly states what he is planning to do, and instead of talking bad about his opponent he hardly ever says his name he just says that his opponent will do this and that without disrespecting him too much. McCain seems like he would do his own thing and not follow Bush completely.
McCain seemed a little selfish in his speech. He speaks of his own accomplishments to the people who are to vote for him. McCain's acceptance speech wasn't very constructive in how he will make change. He told us the things he was going to change but didn't say how he would accomplish it. Also he didn't make promises in his speech but instead he said he would try, "I will cut taxes where I can." The only guarantee he gives in his speech is that he is more experienced than Obama. He was smart not o connect himself to Bush because the majority of Americans are upset with what Bush is doing. McCain points out a lot of things that are happening to the country and he goes on to say how he will fight to fix them but he doesn't say how he will do it. A lot of people can say what they are going to do but never say how they will accomplish it.
McCain's speech was pretty interesting. McCain talked about himself too much though. He mentioned his nickname the "Maverick" and how he is a veteran. While that's nice and all, he still needs to better focus on the nation and its needs. He did address many issues in detail. That made his speech worthwhile. McCain talked bad about Obama and his change philosophy but he didn't attack anyone else but his opponent.
McCain's speech was strong but lacked some details. His main point was also change. I was not convinced in his plans for change. For example, when he was bringing up certain people who fought in Iraq, he didn't say how he was going to "fight" for these people.
I don't think that McCain did as good as a job as Obama did. McCain's speech was far more dull and boring. He spoke in a monotone voice. He seemed to have fake enthusiasm and he made it extremely obvious he was reading off of something. He did not do a good job delivering. And as far as the actual contents of the speech, it was kind of the same old thing. He promised to fight for this country and he promised change. He never really explained what he was going do to or how he is going to do it. But then again, neither did Obama. McCain also heavily endorsed his running mate, Sarah Palin. All in all, if you were never pro-McCain to begin with, he did not say anything to sway people on his side.
McCain admits that people have lost trust in the Republican Party. He even avoids saying the name George W. Bush, but refers to him only as the 42nd President of the United States of America. Because of the lack of trust, he emphasizes that he is a maverick and that he will "stand on your side and fight for your future." "Change is coming." How so? He didn't talk very specifically of his policies, just how his differs from Obama's.
McCain takes advantage of him being a Vietnam War veteran (and POW) to gain the voters of his fellow veterans. Not once, however, does he mention gays and lesbians and the middle class, unlike Obama.
McCain's acceptance speech was more like a rally speech. He claimed to want change in "washington." If I was an un-educated person I would have bought into all the hype. McCain was not detailed in his speech. He made claims but did now share how he was going to attain them. This speech of acceptance leaves pundits with the common question, "how?"
I intend to vote for John McCain, but to be honest I was not very impressed with his speech. He lacked the energy displayed by Obama, and the entire speech seemed awkwardly staged. While I have an enormous amount of respect McCain for his time spent imprisoned in Vietnam, he can't continue to run with that story forever. Everyone has heard it; it just doesn't have the same effect anymore. He did make some good points though, and I believe he did a good job clearly stating his policies. He did a great job to fire up the audience with his line "I would rather lose an election then see my country lose a war". If there is a man who will do the right thing regarding Iraq and any possible future conflict, I believe McCain is up for the job. All in all, while the speech was not terrible, but I do not feel it will win over support from those on the line with their decision. He certainly got a roaring approval from the Republican base, but I just hope it will be enough to pull off the victory.
John McCain said one thing all night in his speech. "Fight, fight, fight". That was the main message behind McCain's speech. He plans to help out all the poor American families that are suffering from economic problems by cutting taxes and helping drill offshore oil to cut back on the spending of the American government on oil for Americans. Oh, and notice the amount of times I have used the word "America", or at least some sense of it. It was the most mentioned word in both speeches. Maybe some people are trying to swing a patriotism vote their way.
McCain's speech resall didn't appeal to me. It was like he was keeping inttrest to the older crowd rather than the youn ger crowd. I didn't like that the fact that he kept using names that no one knew about in his sppech to try to make it personal. But he only drew people away from his speech. Whe someone is talking and you don't know what they're talking about you don't really pay attention to what they are saying after that point.
McCain's speech was informative and to the point, I will give him credit for that. The part I wasn't sure about was the purpose of him telling his war story again. Every time we hear about him it's always the current event AND THEN what he went through in the war. I am by no means down playing what he went through serving his country. What I am saying is if he continues to use this war card I feel people will begin to get used to hearing it and it will lose it's emotional angle that I think he's going for.
McCain speech was very dull to me. He made it seem as if because he took part in the arm forces that he know so much about the world. McCain says that Obama don't know stuff about running the United States because he don't have the experience but he choose a young female to be his running mate. During his election he states that he rater loose the election than see his county loose the war. I feel that the war is already lost and that the war will go on for a few more years. He also states that he will get help from democrats and that he don't care who gets the credit. I know that's a lie. I feel that with McCain there will not be a great change in the upcoming years.
I think that John McCain's speech was just like every other speech I've ever heard. They all speak on the same topics. McCain did; however, seem to have a realistic grasp on his capabilities and what he really could accomplish in his four years of office. I just really don't think that any political speech would be quite as persuasive without all of the people working on it. We have some ideas of what he wants to do as a president but it's the same as what Obama wants to do if you really pay attention, and vise versa.
Dear Sen. McCain,
Whatever happenend to your sense of history? Do you remember the program that focused on "de-regulation"--my recollection is that this was a touchstone of the economic policy articulated by the Republican Party from
the administration of RR until GB! The disasters that we are seeing are rooted in the de-regulation that allowed Enron to work havoc and this has extended itself throughout the economy to the disaster that we witness today. At least speak to the truth and do not try to rewrite history--it seems to be part and parcel of the Republican political theory and it has served to benefit only the wealthy. A lie is a lie is a lie! You can't fool all the people all the time!
it was the best speach ive ever heard, far better than the dems, especially better than obamas.... it was the right speach at the right time, history in the making.