It's A Done Deal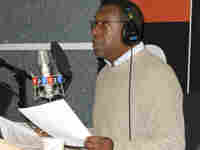 Folks,
We aired our last original broadcast of News & Notes today — Friday, March 20. And by 6 p.m. Pacific time, all the staffers here will have cleaned out their desks, turned in their I.D. badges, and discontinued their voice mail and e-mails. In that regard, we're going through what the rest of America is dealing with during these very tough economic times.
But, while it's the end of a show, it's not the end of what we started six-and-a-half years ago, first with Tavis Smiley, then with Ed Gordon, then with Farai Chideya, and lastly, with me as host. The central idea of News & Notes is that black folks matter. Our opinions matter. Our views matter. And we want to be heard. We want to be part of the national and international political and cultural dialogue, and not in the way mainstream media decides for us, but in the way that we decide for ourselves.
NPR was courageous enough to give that idea birth.
Now, it's up to us to keep it going.
So goodbye, News & Notes.
Hello, future.