Skip to Main Content
Member Station Collaborations Make The StateImpact
This week, NPR joined public radio stations in eight states to announce the pilot of a major journalism network covering the impact of state government actions and decisions on citizens and communities.
The scope of the project is impressive: to hire and train two reporters in all 50 states to focus on this critical (and under-reported) beat. Member stations in Florida, Idaho, Indiana, New Hampshire, Ohio, Oklahoma, Pennsylvania and Texas are first up.
During the two year pilot, the participating stations in each state will pick one topic to report on in-depth. For example, Pennsylvania is already reporting on energy, while Ohio and Indiana are each covering education. Throughout the summer and fall, the rest of the eight pilot stations will be launching online and on air coverage on more topics such as health care, the economy and jobs.
Right from the start, the participating stations knew strong collaboration is the key to the success of the program.
"All of the stations [participating in Ohio] have their own news teams and cover important topics. [StateImpact] leverages that, gives more impact to the reporting and allows the stations to have a bigger impact," says Peg Neeson, community relations director at 90.3 WCPN ideastream in Cleveland.
One of WCPN's partner station is WKSU at Kent State University in Kent, Ohio (the other is Columbus' WOSU). WKSU's News Director M.L. Schultze is at the helm of the collaboration between the three stations.
"Early on we set up a system for collaboration," Schultze says. "We all took part in the interview and hiring process."
The Ohio stations independently reviewed the reporter applications and then came back to discuss their top candidates. Fortunately, she says, each station came independently to the same decision to hire Ida Lieszkovszky and Molly Bloom.
Now that the reporting is underway, Schultze says she is in constant communication with her counterparts at WCPN and WOSU with weekly conference calls and numerous emails each day.
During the first four months of the project, Schultze is serving as the direct editor. Based at WCPN in Cleveland, Lieszkovszky reports for broadcast and Bloom, the digital reporter, works from Schultze's newsroom. The responsibilities for editing and hosting the reporters will rotate to each station throughout the project.
Collaboration among stations isn't merely a nice benefit of the StateImpact project. It's absolutely crucial to its basic goal.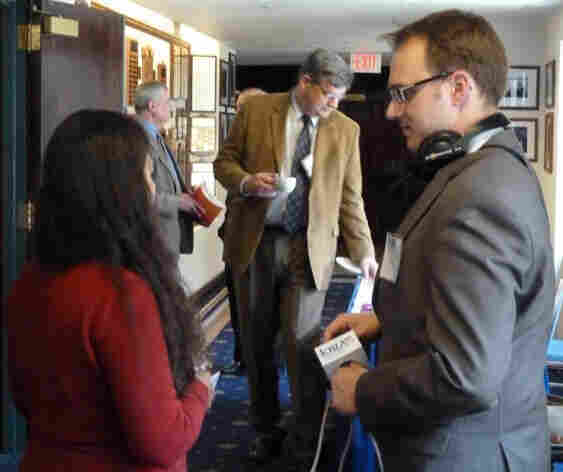 "We are taking a topic that is so overwhelming to so many right now—education in Ohio. There is lots of change and frustration," Schultze says. "We are holding the issue up for closer examination of what is working and what isn't, so everyday people have information and they don't feel hopeless or powerless."
This service to listeners and the state-wide community is precisely what drew Kyle Stokes to apply for one of the StateImpact reporter positions at the Member stations in neighboring Indiana.
"I want to do good policy reporting," he says. "Reporting that is driven by good characters. [StateImpact] is a big opportunity to serve a great need through meaningful reporting."
Stokes says he's already found out how he and his reporting counterpart, Ben Skirvin, each bring different strengths to their journalism.
Working for WFIU at Indiana University in Bloomington and Indiana Public Broadcasting Stations, Skirvin is native to Indiana and more familiar with the issues of the state than Stokes, who knows more about social media. Along with editorial, research and technical support and mentoring from NPR's StateImpact team, Stokes sees the value in the collaboration.
"We have lots of people in the right places to make the reporting really, really something," he says. "It's the special sauce."