Fan Encounter: A Tiny Desk Moment with Rufus Wainwright
As a longtime devotee and self-proclaimed "fangirl" of musician Rufus Wainwright, I was elated to hear he was making his NPR Music Tiny Desk Concert debut at NPR. While it's plenty inspiring to walk the halls with the likes of NPR's Susan Stamberg and Ari Shapiro, there's an added thrill to standing in the front row of a live performance by your favorite artist.
On the day of the concert, even before NPR Music's Stephen Thompson made his announcement for staff to "come on down for the show," I secured a spot front and center just a few feet from the singer. Soon my colleagues across NPR, along with a handful of eager visitors, crowded around All Songs Considered Host Bob Boilen's desk like we were waiting inside a sold-out venue with standing room only, all (cordially) vying for the best view.
As for Rufus, he was seated calmly at NPR's Yamaha piano wearing a casual gray tee and salmon colored shorts. After chatting with a few NPR Music staff setting up nearby, Rufus scanned his crowd of anxious onlookers before turning back to the piano.
More than the "liveness" of the show – a treat in itself – this intimate setting was a chance for me to take in the small, but memorable details of seeing one of my all-time favorites so close. From hearing Rufus's piano warm-ups, catching the slight head turns he makes during a vocal crescendo, and smiling along with the crowd at his light banter between songs, I absorbed the scene as much as I did the music.
Staff around me similarly responded to Rufus's blend of humor and personal narrative, a signature feat of his musical storytelling. And as Bob Boilen noted in this post, "By the middle of his closer, 'Montauk,' few dry eyes remained among the NPR employees and guests."
After the brief, but inspiring show wrapped, I stood near Rufus waiting for my turn as he talked animatedly to a few fans. Without warning, the singer bade his goodbyes and slipped out of sight before I could approach him.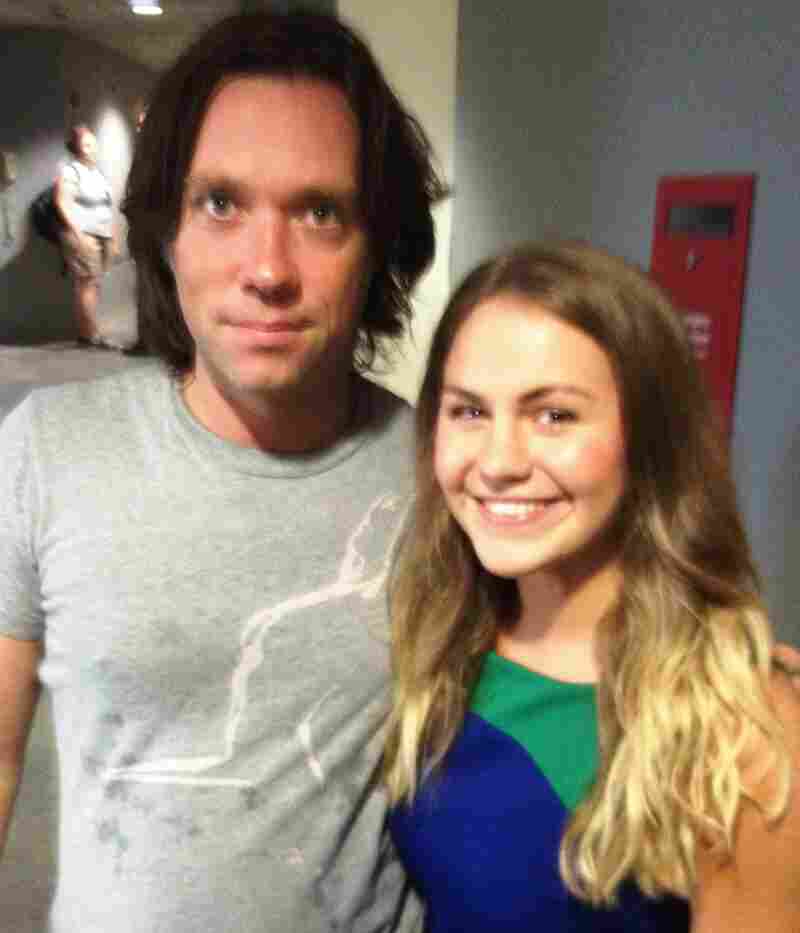 Determined not to lose the opportunity, I quickly maneuvered to the hallway and caught up to Rufus, who was chatting with NPR White House Correspondent Ari Shapiro.
Flustered but determined, I approached the pair and asked Ari if he could take my photo with Rufus. I recall saying something about how great the show was, though my attempts at flattery were muddled by my obvious, beaming excitement.
As you can see in the video now posted on the NPR Music page, Rufus is a brilliant performer and lyricist. But standing among the crowd of NPR staffers during its live counterpart, this Tiny Desk Concert was a tiny moment of personal satisfaction as a fan.