Faces Of NPR: Dan Frohlich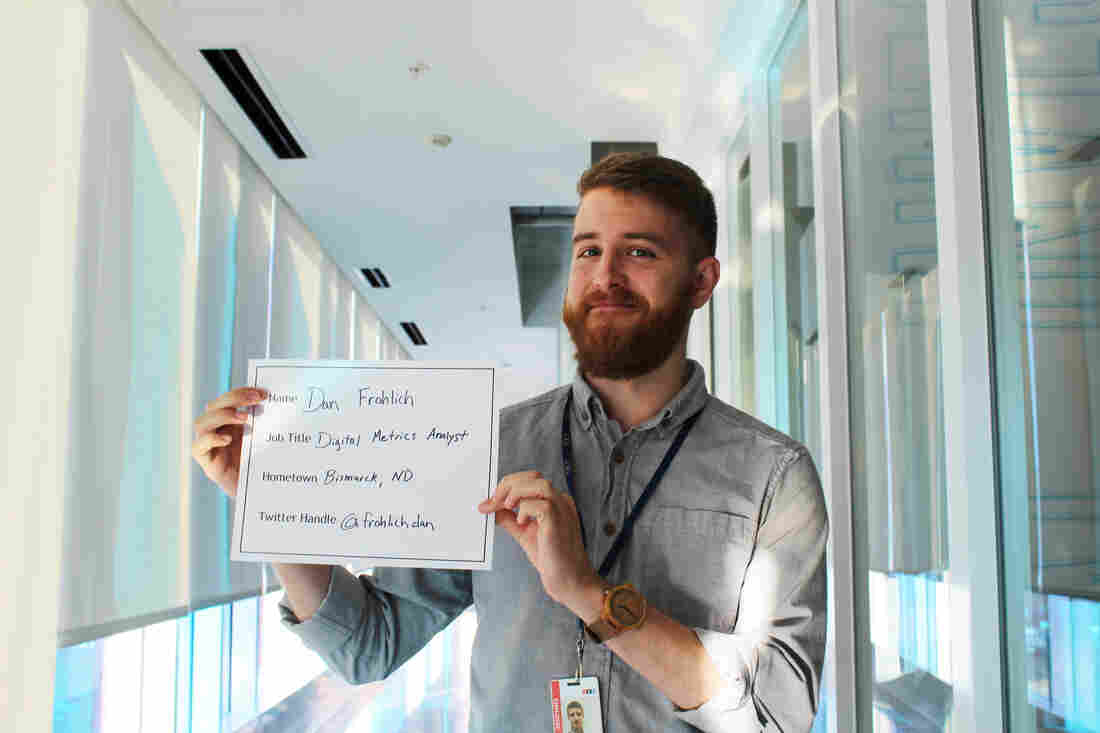 Faces Of NPR is a weekly feature that showcases the people behind NPR, from the voices you hear every day on the radio to the ones who work outside of the recording studio. You'll find out about what they do and what they're inspired by on the daily. This week's post features a Digital Metrics Analyst, Dan Frohlich.
The Basics:
Name: Dan Frohlich

Twitter Handle: @frohlichdan

Job Title: Digital Metrics Analyst

Where You're From: Bismarck, North Dakota
An Inside Look:
You're a Digital Metrics Analyst in Audience Insights. What does that mean?
I'm part of the research team that analyzes audience behavior on our digital platforms; in particular, I work with audience data from NPR.org, social media and podcasts. We use that data to inform the work of pretty much every department here at NPR in some way or another. For the newsroom, we'll use it to say what stories performed well and what types of audience acquisition strategies are working. The data is also used by several other departments to influence changes to the website or to help us make the case to a potential sponsor. The nice part about my job is that it usually changes along with the newscycle.
How did you get started here? What advice do you have for someone who wants a job like yours?
I started at NPR in the summer of 2012 as an intern in my department! I was hired full-time beginning on April 1st of the following year. Fortunately, it wasn't an April Fools' joke. So getting an internship is a great first step if you're interested in working here.
I think if you want to work in research you need to have a deep curiosity about people. You have to ask good questions, and you have to be an attentive listener. Just about anyone can learn statistics or the various tools that we use (like Google Analytics), but it's harder to find someone who has a genuine interest in doing this type of work. So learning the tools is a great step. It shows you're motivated, but you have to be a committed lifelong learner to really succeed. I'm sure that's true for other departments here as well.
What's your favorite #nprlife moment?
Getting hired was a nice moment! But really, I usually think the best moments are the things that make this place different from a typical office job. Getting to see how news events are covered behind the scenes, randomly riding in an elevator with people you admire, getting to see live music while you're on break, watching the 4th of July fireworks from the NPR patio and so on. There was one time when a few colleagues of mine heard that Bill Gates was visiting, and we unsuccessfully tried to bump into him. How many people can say they have unsuccessfully attempted to meet Bill Gates while he was at their office?
What are some cool things you've worked on?
We're going to have to stretch the definition of cool here a bit. Over this past year I was really happy to be part of the team that worked on the new NPR.org player, working primarily on how we measure its performance. It was the first time we've had really detailed metrics on how people were listening on NPR.org. I also love working on any projects that involve something new—this year that included working with the Facebook Live team on research that helped them understand our performance on that platform. Aside from that, it's amazing to get to see how people find and read news around big events: the elections, the Olympics, and everything in-between.
What's on your desk?
I have a small booklet from Intern Edition, which was an audio/visual project each class of interns used to produce here at NPR. We were the last group of interns to create one, and it serves as a nice reminder for where I started at NPR. I also have an NPR branded baseball that I found in a drawer at work.
Favorite podcast?
This changes frequently, but most recently I loved the first season of NPR's Embedded. It's great to learn more about things you frequently hear in headlines but in more detail.
Favorite Tiny Desk?
I think Dan Deacon's Tiny Desk Concert was probably the most fun for anyone who was there. When the artist makes Bob's desk their own it usually turns out to be a fun time.
Favorite places in Washington D.C.?
I enjoy biking around DC so I love the Capital Crescent Trail and one of the Potomac river fishing spots along the trail. I also semi-frequently walk over to the Big Bear Cafe for coffee or bike to Kramer books for reading material. The 9:30 Club for concerts. I like spots all over the city just for their uniqueness.
First thing you do when you get to the office?
Catch up on email. Grab some coffee in the Sound Bites Cafe. Hope for something more exciting to happen.
What do you love about public radio?
Part of the reason I first applied to NPR out of college was the fact that it was a mission driven organization. I like that we can come back to our mission whenever we're at a loss about what to do. It's also very liberating when your top objective isn't "delivering value to shareholders." That provides us with a really unique opportunity in the news landscape.