Poetry In Allen Ginsberg's Photography
Listen to the story from All Things Considered.
Allen Ginsberg is best remembered as a poet. In the 1950s and '60s he was the spokesman for a generation of disenchanted misfits who came to be known as the Beats. They were in bars and on rooftops and on the road; they listened to jazz, lost sleep over literature, got in trouble. It was a small and elite band of — mostly — boys, and Ginsberg was at its center.
But more than a writer, Ginsberg was a bearded, Buddhist, flower-powered Renaissance man. He was a political activist, a connoisseur of soups and, through it all, a photographer. On May 2, the first-ever scholarly exhibition of his photographs opened at the National Gallery of Art in Washington, D.C.
Photographer Elsa Dorfman met Ginsberg in 1959, when she was a secretary for his publisher, Grove Press.  He "never doubted he would be a great man," she recalls. "And he had the feeling that all his friends were equally genius." Knowing that they'd one day be famous, Ginsberg documented their lives — their travels, late nights and meandering walks.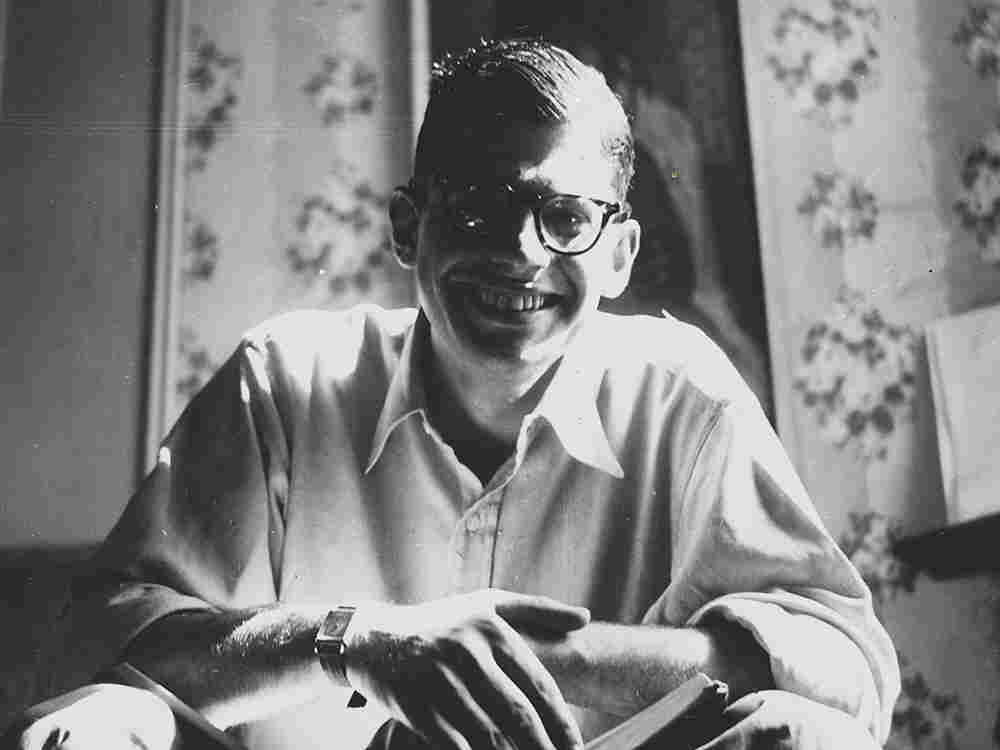 Courtesy of the National Gallery of Art
And he did it all with a second-hand Kodak camera, using nothing more than the instructions on the film packets. They are some of the few photos of the Beat generation in their early years: a pre-Naked Lunch William Burroughs staring sadly at the camera from behind a pile of books; writer Gregory Corso crouching by a window in his Parisian attic; "Neal Cassady," as Ginsberg writes in a caption, "with cigarette young and vigorous age 29 with salesman surveying North Beach used car lot, he needed new wheels."
As it turns out, Ginsberg had a knack for photography. "He was just one of those people, every coupla hundred thousand births, who can do everything," Dorfman explains. He was the most energetic, always-clicking person."
Although Ginsberg put his camera down for a few years, he revisited those early photographs in the 1980s and was inspired not only to begin photographing again — this time a bit more seriously — but also to inscribe his photos with long, poetic captions. He bought a nicer camera, sought the advice of photographer and friend Robert Frank, and slaved over the text that would accompany his images. No two captions are the same — not even on multiple prints of the same image. The writing is neat and meticulous and quirky.
At the exhibition preview, curator Sarah Greenough cited one beneath a photo of William Burroughs and Jack Kerouac on a couch. Ginsberg describes Burroughs, "camping as an Andre-Gide-ian sophisticate lecturing the earnest Thomas Wolfean All-American youth Jack Kerouac" on the dangers of continuing to live with his mother. The photos have received attention through the years, but not in a scholarly context. "It's the contention of this exhibition," says Greenough, "... that they deserve to be far better known."
The exhibition take us through the years: We see a dynamic 1950s beat generation slip into old age. Beards grow, old friends vanish, new ones emerge. Parts of his life were controversial. But in these photos, we mostly see the poetry of Ginsberg's life, the poetic way in which he saw the world — how an artist crafted that vision into words and photographs.