Eerily Beautiful Mug Shots From 1920s Australia
Notice anything odd about this man?
Widow Annie Birkett certainly didn't notice anything odd when she married Harry Leon Crawford, above, in 1914. So imagine her shock when "Harry" turned out to be a woman: Eugenia Falleni, who had been passing as a man since 1899.
Three years after their marriage, Birkett announced to a relative that she had discovered "something amazing about Harry." Shortly thereafter, she disappeared. Crawford (Falleni) told the neighbors that Birkett had run off with a plumber. Eventually, a charred body was found in a Sydney suburb and belatedly identified as Birkett's. According to the original caption (excerpted below), when Crawford's second's wife was finally convinced of Falleni's true gender, she remarked, "I always wondered why he was so painfully shy ..."
The photograph shown here shows Falleni in male clothing, probably on the day of her arrest. The negative was found in a paper sleeve inscribed "Falleni Man/Woman." It is also possible that Falleni was made to dress in a man's suit for the photograph.
---
Everything about this seems too classically noir to be true. But the photograph, and true story, is one of thousands captured by Sydney police between 1910 and 1930. The following mug shots come from the Forensic Photography Archive held at the Justice & Police Museum in Australia.
It goes without saying that these are not like today's mug shots. For one, because unlike today's criminals, many of these people had never before been photographed. Posing for a portrait was kind of a big deal.
There's also the medium: These mug shots are actually 4-by-6-inch glass plate negatives. (Think huge camera with black hood and accordion body.) Today that format is used by fine art photographers who appreciate its tonal depth, texture and balance, and also its moodiness. Back then, though, this was forensics.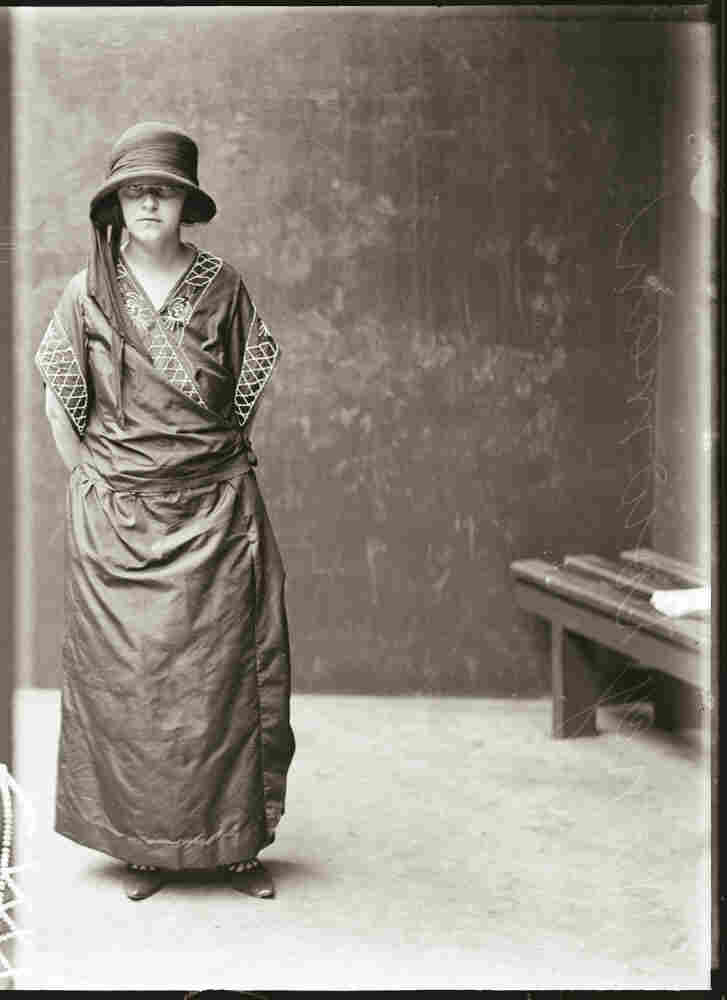 Novelist and curator Peter Doyle has spent a good two decades working with the collection. "It's kind of like photographic Pompeii," he says — an archaeological dig through crime scenes and other police-related ephemera. The mug shots, though, are a major highlight. "I've never seen photos like this," Doyle says, "particularly for that period of time, and that's the big mystery."
Mystery seems to be the word: Who was the photographer? And were they intending to be artful? Or sympathetic to the subjects? Why are some people smiling — ostensibly even proud? Little detail is known. In fact, when the photos were discovered in 1989, the only information that existed was scratched onto the image. Doyle spent years digging through police and court records and old newspaper files to match the names on the images with their stories.
Together these faces show the seamy side of Sydney — or, as Australians call it, "Sin City." Jaded veterans were back from WWI, Doyle says, cocaine was rampant and a large percentage of the working class had immigrated from Great Britain. "Modernity swept through Sydney in the '20s," he says, which also shows in the clothing: Men were wearing three-piece suits and women were dressed to the nines in ready-to-wear outfits from department stores. It almost looks like something you'd see in a modern fashion spread.
And that, 90 years later, lends a strange nobility to Sydney's criminal class. Without knowing the dark story behind these mug shots, you might think they were just regular folks. Maybe that's why Doyle called his book Crooks Like Us. Except these people seem to know something we don't.
---
The captions to these photos were edited for clarity; Originals courtesy of NSW Police Forensic Photography Archive, Justice & Police Museum/Historic Houses of NSW. A few of the photos in the slideshow were also researched by Nerida Campbell.