It's ScuttleButton Time!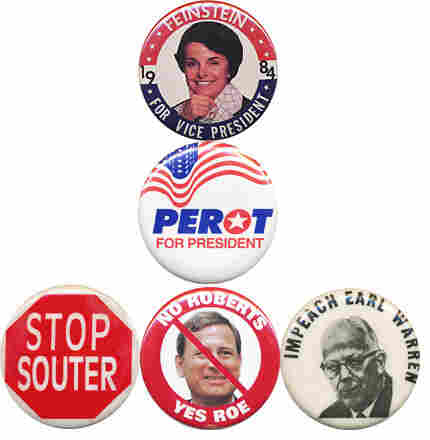 Well, you can't say that ScuttleButton is not topical.
Last week, we used a Jane Harman button in the puzzle, just as the California congresswoman was caught up in a controversy over wiretaps.
Today, there is a David Souter button in the mix.
Don't forget the rules: Take one word (or concept) per button, add 'em up, and whaddaya get? Usually the answer to the rebus is a famous name or a common expression. And don't focus on a political answer. It doesn't necessarily have to be political, though it could be.
A correct answer chosen at random gets his or her name in this column. Personally, I can't imagine a greater honor.
You can't use the comments box at the bottom of the page for your answer. Send submission (plus your name and city/state — you won't win without that) to politicaljunkie@npr.org.
ScuttleButton is a regular Friday feature on the Political Junkie blog. Here's the answer to last week's puzzle.
And, by adding your name to the Political Junkie mailing list, you will be the first on your block to receive notice when a new puzzle goes up on the blog. Sign up at politicaljunkie@npr.org. Or you can make sure to get an automatic RSS feed whenever a new Junkie post goes up by clicking here.
Good luck, have fun, and happy Friday!