Skip to Main Content
Liane: Wait Until Next Week's Show
Our first Yellowstone piece airs today. Producer Laura Krantz did an amazing job pulling together the narrative out of hours and hours of tape. Wait until next week's show. You'll get to hear how the Old Faithful Inn was saved and hear a survival story from a firefighter about how he and his colleagues were trapped in the blaze.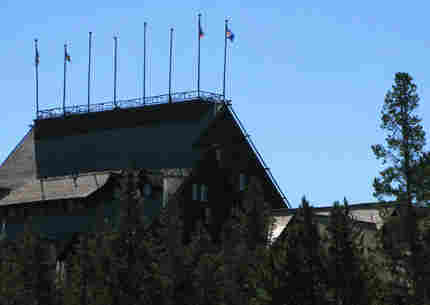 Although I get an extra day off this week because of the Labor Day Holiday, Thursday I have to hit the ground running. We are going to have a performance chat with The High Kings - nothing like a little Irish music to get the juices flowing. Then, a chat with Joan Baez. This will be a little different because many of the questions will be from our listeners. But wait, there's more. Greg Kinnear is starring in a new movie, " Flash of Genius". Its the story of Bob Kearns who invented intermittent wiper blades. He sued the major car companies for stealing his idea. I saw the movie this past week, and it is a compelling story. I'm used to seeing Kinnear in comic roles, so I'm looking forward to talking to him about this one. He'll be in our Washington studio. I love my job.

Oh Liane, Liane! Please check your NPR style guide. About a year ago my late husband Woody Hesselbarth thought he had convinced NPR reporters and editors that wildfires do not "consume acres". If this was so where did they go? When acres are consumed does this cause shifts in the continental plates and earthquakes? Does this imply that the North American continent is indeed shrinking? Wildland fires scorch or char acres but they do not consume acres of land.
I do want to thank you so much for your story. It brought back so many memories: assigned to crew mobilization or "demobe" during the height of mobilization of personnel in late August 1988; getting a break from night shift to go check out the Park to see how things had changed; my days as a forester and wildland firefighter with the USDA Forest Service in the Northern Rockies; and most of all to me all of the precious times Woody & I spent in Yellowstone before and during our marriage in 1995. Our first date was a week long x country ski trip around Old Faithful in 1994. Thank you so much for "rekindling" those memories. I so very much look forward to next Sunday's story. Janet Kurman Hesselbarth, Ft Collins, CO
Thanks so much for bringing us this series of reports. As a person who has studied and worked in fire ecology and as a wildland firefighter and has worked for the NPS, it really hits home. Fire plays such an important role in so many ecosystems and Yellowstone was not destroyed, but it was, in fact, renewed.