Celebrating the Legendary Paul Newman
Davar Iran Ardalan, Senior Producer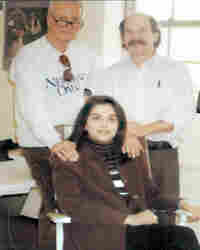 In early December of 1997, Daniel Zwerdling and I went to Westport, Connecticut to interview Paul Newman and to peer inside the Connecticut headquarters of Newman's Own food company. Since 1982, the company has been selling spaghetti sauce, salsa and popcorn in supermarkets around the world, all emblazoned with Newman's picture. But not many realized at the time that Newman donated 100 percent of the after-tax profits to charitable causes — schools for the deaf, theaters for low-income children, camps for kids with serious diseases and civil rights groups.
We spent a good three hours with him as he talked to us about his career and his motives for giving. We both even got to taste-test his latest salad dressing and play ping-pong with him!!! At one point, I asked to take a few photos. That's when he brought over a chair and asked me to sit down in front of him. Then, he asked Daniel Zwerdling to stand next to him, behind me. Before I knew it, Paul Newman had his hand on my shoulder and we had a pose similar to the one in his famous Butch Cassidy and the Sundance Kid movie. It was pretty surreal!
He was very generous with his time and took Danny and I around his office to show us his knicknacks. Here is a transcript of what happened next:
Danny Zwerdling: I should probably point out to our listeners that there is a lot of whimsy all around here. The sign on your door doesn't say Paul Newman, it says: Attention! Chien bizarre! Right? "Strange dog" in French??
Paul Newman: Crazy dog.
Danny Zwerdling: Continuing on our whimsical tour; the brass plaques on the desk say... A... E....
Paul Newman: It says A.E. Hotchner, lifeguard on duty. Paul Newman, assistant lifeguard on duty.
Danny Zwerdling: And then next to it looks like there is a bottle of spaghetti sauce that is spilling, but it's got to be a phony. It's like one of those plastic pooh-pooh jokes.
Paul Newman: Gratefully, it's spaghetti sauce. There is no ka-ka stuff up here. I do love our slogans, though. Slogan number one: "You can get straight A's in marketing, and still flunk ordinary life." That was Paul Newman to Lee Iacocca after his Pinto (car) caught fire.
Danny Zwerdling: Your Pinto?
Paul Newman: No, his!
Danny Zwerdling: Oh, you mean ALL of their Pintos.
Paul Newman: There's the other slogan, "Just when things look darkest they go black." That was Paul Newman to Walter Mondale in 1984.
Danny Zwerdling: Do you know, did he laugh when he got that — or cry?
Paul Newman: He may have wept. There's another slogan that says "Whenever I do something good, right away, I gotta do something bad, so I know I'm not going to pieces."
Danny Zwerdling (looking at a photo of Paul Newman standing in an icy pond): That's not really you, is it?
Paul Newman: I used to do that to get my heart started in the morning.
Danny Zwerdling: This is extraordinary. This is a picture of you in a teeny bit of water surrounded by snow and ice in the middle of the woods. You go into icy ponds?
Paul Newman: Well, I used to do it. I used to do it to get my heart started, but a couple times it stopped. That's when I decided to quit. We had a little river that flowed through our backyard, and I used to go in there.
My heart sank when I heard of his passing. Take a moment if you can and share your thoughts about Paul Newman below.

He was not only a fine actor but a decent and interesting human being.
I will miss him.
Maybe now Paul Newman's acting ability will be appreciated. The critics always thought a good looking man couldn't be a good actor.
Of course I was sad to hear of Newman's passing but I was not prepared for how my children, 12 and 5, would take it. When they heard about it on NPR on Friday they both yelled, "What!" and stood with their mouths hung open. My five-year-old said, "No, Doc can't be dead!" They loved him as Doc but realized he was a real person who to them seemed like a grandpa. This morning when Morning Addition again mentioned his passing, the five-year-old dropped to his knees in front of the radio and clasped his hands in a prayer position and lowered his head in sorrow. We are not a religious family and do not attend church-- I have no idea what possessed him to do that. We will all miss Newman in our own way. We send love to his family who will surely miss him the most.
What a great loss as an actor and more importantly as a humanitarian. His character in Cool Hand Luke is my husband's hero. My husband is serving in Iraq and will be so sad to hear the news of his death.
In the 1970's the American Library published a poster of Newman pushing reading. The Nation Magzine published an ad showing him reading the magazine. Both are posted in my garage. Today, at the local Unitarian/Universalist Sunday service I will play Joplin's "The Entertainer" for the prelude and on the piano will be an empty bottle of Newman's Own Balsamic Vinaigrette salad dressing holding a lone sunflower. An American Treasure, as NPR referred to him this morning.
I'm totally heartbroken. I have been mourning this great man's passing all weekend. My first hollywood creush and I have never missed a movie of his.
I want to extend my deepest sympathies to his family and to the country. We have all lost a gigantic presence.
Thankfully, he will never "die" as long as there are copies of his films available. What a legacy he has left.
We need, and will always need, more men like Paul Newman: a force of nature with a brain, and a heart he refused to ignore.
Paul Newman, Gregory Peck, Jack Lemmon and RobertRedford to name a few managed to supported projets that exemplified their principles while entertaining nay, inspiring us at the same time. Gentleman's Agreement, Absence of Malice, Three Days of the Condor, China Syndrome..never suffered a "failure to communicate'
In the beginning, it was only his blazing blue eyes that nailed me. Then along the years, there were the late Saturday night re-runs of "Cool Hand Luke," and "The Hustler." More recently has been the respect and admiration I felt, following his charities and his "Newman's Own." Now, in the end, I join the many, many who have to express our love for this man. Those blue eyes still get to me.
My husband and I raced cars with and against Paul Newman for many years at Summit Point racetrack in West Virginia with SCCA. We camped next to him, and would watch as he would gently handle the fans who converged around him and "escorted" him as he would walk up to the paddock to get in his car to compete against the rest of us. One of the prices one pays as a famous person. He took it all in stride and was very gentle about what some others might consider a personal intrusion. Once, one of the track workers brought him 50 eggs, which were enjoyed by all at the Saturday night celebratory beer party. Joanne would occasionally accompany him to the track and she also was always gracious and simply blended in with the rest of us who were mucking around the paddock in either inches of mud or chocking dust depending on the weather conditions. Summit Point was not in those days, a glamorous place to participate in the sport.
Thank you Mr. Newman for your incredible contribution to all of us in teaching us how to be generous, kind, open and real in this world. Especially now, we need more Paul Newmans in this world. All the best to his wonderful wife who also epitomizes the definition of graciousness.
Mr. Newman was a client of mine and as these things go, I didn't really see him that often but when I did, I was always impressed. A very small part of that is because when I first met him, I was was amused to find myself attracted to a man more than twice my age! He was the same man in private that he was in public. He was just a good man who stood by the things in which he believed. I think he was a great actor but that does not necessarily make a great person. I hope that people learn more about his good works and are inspired to do a little more of the same because that will be the best way we can all honor a great man.
I remember when I first saw Paul Newman on the screen on our T.V.set. I must have been around 10 years old. He was one of the main actors in a drama. I think the name of the weekly program was called "Playhouse--". I was glued to the T.V. set. What a great actor, he showed such emotion and put so much feeling into his role. From then on I was one of his best fans. Throughout the years when he starred in a movie I went to see it. Some of my favorite movies of his are;"The Long Hot Summer" with Joanne Woodward, "Cat On a Hot Tin Roof" with Liz Taylor, "Hud", "Cool Hand Luke", "Sweet Bird of Youth". I could go on and on. What also impressed me was his compassion for children who are ill or poor. He has done a lot in his life time. He is going to be missed. I wish the best for his wonderful wife, Joanne. I'm so sorry for your loss.
I was shocked when I opened my mail page yesterday to learn of Mr. Newman's passing. His image was much like that of my father's, who I lost twenty-five years ago. His eyes twinkled with mischief and danced like my husband's of thirty-three years. He was my business partner, my lover and my best friend. As I approach the third anniversary of his passing, I can only send my thoughts and heartfelt condolences to JoAnne. Her life will never be the same and will miss him far more than anyone can ever imagine or express.
In the '90's I lived in the neighborhood where Paul Newman and his wife had an apartment. As I got to know the people there - unusual for New York in general - I did a double take when I saw him out the corner of my eye. I thought it was someone I knew. In that moment I saw him freeze and understood how he must have hated being recognized.
I often go back to visit an old neighbor there and saw him out with his family and a dog relatively recently. It was a lovely group and, although I would never go up to someone famous, I wanted to call out and thank them for their support of the BBC news.
We have lost someone very special. It is a very sad time, he will be missed.
For Mr. Newman's Family.
On the day when
The weight deadens
On your shoulders
And you stumble,
May the clay dance
To balance you
And when your eyes freeze behind
The gray window
And the ghost of loss
Gets into you
May a flock of colors,
Indigo,red, green
And azure blue
Come to awaken in you
A meadow of delight.
When the canvas frays
In the curragh of thought
And a stain of ocean
Blackens beneath you,
May there come across the waters
A path of yellow moonlight
To bring you safely home.
May the nourishment of the earth be yours
May the clarity of light be yours
May the fluency of the ocean be yours
May the protection of the ancestors be yours
And so may a slow
Wind work these words
Of love around you
An invisible cloak
To mind your life.
Beannacht by John O'Donohue from a Book of Blessings
As the Motorsports Editor at The New Haven Register (and later the Editor of many national enthusiast magazines) I covered Paul Newman and his racing. Racing was very important to Paul, and he was very good at it. But, see www.speedstylemagazine.com for a wide range of anecdotal stories about Paul and his impact on motorsports journalists, fans and fellow racers.
Best Regards,
Bill Moore (Editor/Publisher SpeedStyle Magazine)
I was very sad to wake up and find that Paul Newman has died. I loved his movies as well as watching him race around the studio with Jay Leno. He had a fantastic sense of humor. He will be dearly missed.
Lessons I took from Paul Newman's Life
1) That a Jewish guy could be sexy.
2) That a movie star could be thoughtful (in every sense of the word).
3) That a man who can have as many romantic conquests as he wanted, can make a choice to have only one.
4) That riches and fame are NOT to be settled for.
5) That you can define yourself - and transcend people's expectations of you.
6) That the clich?? is true - Don't worry about being loved. Worry about loving (and doing) and the rest will take care of itself.
I grew up wanting to emulate Paul Newman. Who wouldn't? My best friend looked a little liked him and was suitably tormented by the rest of us. The lessons of his life really made a difference in mine; they came into clearest focus yesterday. I really feel like I lost something. Best wishes to all those who loved him.
I was very sad when I learned of his death. I will always remember him with that amazing smile and those spectacular eyes. He will be missed!
Though I could go on and on about Paul Newman's brilliant film AND STAGE performances, and his products and charities, it was two evenings in 1982 that I will always hold highest.
He appeared on ABC's Nightline with Ted Koppel along with Charlton Heston for a one-on-one debate about a nuclear freeze. He was brilliant and his arguments were so clear and well thought out. At the end of the show, Koppel made a unilateral decision to continue into a 2nd night, a rare and significant recognition of the importance of what was being said.
Of course, some say that it is foolish when actors express political stands, but they forget that movie actors spend far more time waiting to act than they do actually acting, and many use their down time to become educated.
And that education obviously made for Newman's passion, expressed brilliantly and couragously those evenings back in 1982.
That is what I treasure most in the multi-treasured Paul Newman.
My beloved lifelong hero, Paul Newman, passed away on Friday, September 26th 2008. Funny that I should dream of him on Saturday before they announced his passing. When I woke up at 2:00 a.m., I couldn't remember the details of the dream, but I knew he was in my dream. After I woke up, I spent sometime thinking about him and an article that I had published in the Sacramento Bee on February 19, 1995.
The article started like this: "Paul Newman is 70 years old. Hard to believe. He was featured on '60 Minutes' recently and after all these years, I find myself still drawn to him more for his ideas, though, than his blue eyes. I still have my photoplay magazine with pictures of him. It's tucked away in the attic with my James Dean and John F. Kennedy scrapbooks.
All my heroes, and...my mother has Alzheimer's."
When I had written this article, my mother had recently moved in with me because she could no longer care for herself. My mom stayed with me for 5 years and eventually passed away in 1999. For some reason, Paul Newman's 70th birthday had a profound effect on me. I guess it was a letting go of my youth even though at the time I was 52 years old.
Now, I am 65 years old and still dreaming of Paul Newman. How strange is that? I like to think that on Friday, when Paul entered another realm of time and space, my mom caught his eye and asked him to pay a visit to her daughter. He did, and I am overwhelmed by the blessing I received in my dream from both him and my mom.
First you are then you are not
You see, you hear, you feel and touch,
And in one breath, all you are is gone
You stop to breathe, you are not here
You cease to feel, you don't exist
But your soul, just like fine mist,
Surrounds the air, day in - day out;
You are not here, but yet... you are.
Irene Zamd, 1989.
For Mr. Paul Newman, Ms. Woodward and their family. Shalom.
Feeling melancholy and bereft, we tried yesterday evening to rent a Newman movie.
It was in Movie Gallery that our hearts really broke.
Two female staffers were running the store. The sum of their ages might have yielded one adult; the sum of their body weights, probably four.
"Paul who?" said the first.
"Can't look it up by the actor; everything's alphabetical by title," added the other.
We started running our memory banks against those of their inventory screen. No Cat, no Hud, no Hustler, no Long Hot Summer, no Verdict. No Cool Hand Luke either, although one of the grils said, "At least I've heard of that one." Butch and Sundance finally scored, and we dug it out of the single shelf of classics in back.
At home, we fired it up. But alas. It was a "reenactment" of the "legend" of Butch and Sundance, no touch of Newman anywhere on it.
A bleak night.
Paul Newman was an icon for 2 generations of women--his and the baby boomers. Of course he was a great actor and humanitarian, but we can never forget his most famous quote about Joanne Woodward--why go out for hamburger when I can have steak at home. Oh man, that was all his loyal female following needed. I am surprised at how sad I feel about a movie star passing.
paul's gone
no more blue eyes
no more blue skies
on the silver screen
but hisotry will not forge
the memories and ther movie scenes
he'll never be alive aqgin to dream
but that's the way of all actors
all fathers, mothers, sisters, brothers
the curtain falls
one one and all
some with noteriety
most in obscurity
"in an age of candor
where is the mystery?"
i heard him say
good-bye blue eyes
but you were much more than an actor
an activist
philanthropist
you were with us
a flawed human being
and you will be missed
A mensch is someone who not only knows how to live, but has the courage to live that life. Paul Newman was a mensch.
On my list of things to do is a reminder to write to Paul Newman. The reminder is there because in 2007 his film "The Verdict" was playing quite frequently on TV. I had seen the film many times but I found I couldn't resist flipping to the channel it was on, and once there, I couldn't turn it off. It is a perfect little film and there is something truly lovely about watching a perfect film unfold.
I'm sure Mr. Newman knew how special the film is, but I wanted to tell him about the effect his film was having on me. Maybe take him to task for his role in creating what might be called a mythic work of art, the kind of story that can be endlessly retold, but one that was claiming far too much of my time.
I also wanted to comment that the ending of "The Verdict", with the screen going suddenly black, is the perfect ending, perhaps the only ending, for an honest film. At the time "The Sopranos" was getting an inordinant amount of attention for ending just that way, but I wanted to call Mr. Newman's attention to another perfect film, Bertolucci's "Besieged", which also employs the same device to great effect.
I wondered if Mr. Newman had seen "Besieged". I wanted to recommend it if he had not.
I never wrote, and now the screen has gone to black.
For Mr. Newman's family,
I knew that Mr. Newman was getting older, but he seemed so young and vibrant. His passing has been a shock to me. The world has lost one of its treasures. I know that I will sorely miss him. I really loved his character in "Nobody's Fool". I don't think anyone else could have pulled off that role. Even now, as I watch it, I still weep the whole way through. Thank you Mr. Newman for sharing your talent with us. Thank you for helping us to see the world through the lens of your acting. Thank you for allowing me to feel the emotions that you brought to light. And thank you, Mr. Newman's family for sharing him with the rest of us.
Uncle Paully as we called him. Sadly the very thing his devoted his life to...helping those with cancer to be happy, safe, loved and cared for took him to heaven. He was dynamic, well read, incredibly smart but most of all just Paul. He made a huge impact on the world for all of his 83 years. The movie Fat Man/Little Boy, the play Our Town...his devotion to his friends, family, community and the human race. I can only hope that his heart and soul will inspire people now and in the future to give from the heart, listen to those around you...and to not be as so many people are "King of the Me's." Paul Newman was never about Paul. He gave to everyone around him and around the world from the heart. His laughter, the twinkle in the eyes, and the slight smile will always be remembered. A true gentleman that would rather others be acknowledged than himself. He was a true wonder on and off the race track and on the big screen but most importantly in life. He did not race through life he walked with it touching so many people and helping us remember humanity and being humble. Grace, poise and honesty of self and family, friends and the human race...Something that cannot be purchased came easily to Uncle Paully. Where ever the next life takes him, he will continue to be a gentle, caring and loving person and will always be a winner and on the pole! Here's to you and your family...Uncle Paully you will be missed and in our hearts forever. BF
We were at a Trans-Am championship revent in Ohio, 1970's. 30,000 spectators awaited the start of the race. I asked if anyone saw Paul Newman, who raced in the Trans-Am amost every week. "He's just appoaching ???he start/finish line." I saw him inside his race car. The name on the door read, "P.K. Newman". He appeared to be just another car nut until the race ended and he stood in the Winner's Circle drinking a bottle of Bud.
Two weeks ago a beloved friend and I were in hospital as she recovered from surgery to remove a cancerous tumor. She is doing well. Five days afer surgery we watch "Butch Cassidy and the Sundance Kid." Living in Wyoming, we have a special feeling for that movie. Hearing of Paul Newman's death, we have a shared moment of how cancer changes lives. I so appreciate his humility and requirements that he, along with everyone else, be treated well.
From the time I was a very young girl I loved Paul Newman's acting, his face, his smile, his eyes, his wife,the way he appeared to deal with adversity and, later, the way I learned he lived his Life - especially the fact that he responded to his good fortune by giving back so much! I didn't realize when I was younger (and I swooned over him) that he was old enough to be my father - that is because, in so many ways, he was ageless and bigger than Life - that is why his death is a shock, and that is why so many of us who did not have a personal relationship with him still feel a loss and a void. Please convey that and my heartfelt condolances to his beautiful wife and the rest of his family!
One of the perks of growing up in NY is seeing celebrities in their real life roles. One night when I was in high school my Mom had taken me to the ballet and there were Paul Newman and Joanne Woodward sitting right behind us. I tried to be discreet as I turned around to see them. Then I caught a glimpse of those amazing blue eyes. WOW!!! I saw the clear blue color and the amazing twinkle but I also saw that he was just a regular guy being dragged to the ballet by his wife. I was lucky enough to see him once again at a restaurant where he was having dinner with one of his daughters, son-in-law and toddler grandson. The happiness I saw on Newman's face as he played with his grandson in the high chair next to him just lit up the whole room. Such a special moment and I'm so lucky to have seen it. Sometimes seeing a celebrity in person can be less than you thought it would be. Seeing Paul Newman was infinitely better.
Butch Casidy and the Sun Dance Kid. My all time favorite movie.
Paul Newman was one of those rare stars that actually cared about humanity and did something charitable with his money. Even more rare was that he was married to his wife until his death. In these days of fleeting hollywood relationships, true love meant something to this man. His contribution to the world will most certainly be remembered as long as his fame.
The world seems a little darker for the passing of Paul Newman. Truly one of the good guys, I wonder if he knew that. I like to think he did. There is something to be said for people of his caliber and the strength that he gave to others. Just knowing that there was somebody like that, out there in the world lifted the rest of us. As if just being of the same species gave the rest of us some redemtion. I will miss knowing that he is there, and today the wieght of the world seems a little heavier from his passing.
I felt as if a very dear friend has died. His 50 yr marriage to Joanne sets an example to the young Hollywood set. My heart goes out to Joanne at the loss of her sweetheart, their steady marriage has been an inspiration to me
I first saw Paul Newman in one of my fathers favorite films, "Butch Cassidy and the Sundance Kid." While most of his films I was not around for, being only 27, his impact on me through film, my personal favorite of his being "Nobody's Fool," and more importantly his charitable work, will have a lasting influence.
I grew up with epilepsy, and while it is not a life-threatening disorder, Newman's work with children and support for them touched me personally and will continue too. I encourage my friends, family and others to not simply support causes that were dear to Mr. Newman because of who he was, but dear to so many countless others as well. Let us view him as an example of a good man and person that chose to make a difference with his stardom, money and influence and try to take after his effort in our own lives.
After reading the comments above,which made me sadder and made me cry over the loss of this man, I can say he gave me much pleasure, to see his whimsical smile on a package of fig newtons, for G-d sakes! to see him act, to see his face, to know he enjoyed his life and his family, to know that he, too, was human and experienced great sorrow in losing his son, but that did not stop him from going on and being a friend to us all. My deepest condolences to his family.
Thousands of us keep uncompleted screenplays of various movies we'd like to write tucked away at the back of some forgotten drawer. The lead character in my unfinished draft would be portrayed by Paul Newman. There would also be a leading role for Joanne Woodward.
With Newman's passing, that dream, that distant yearning, comes to an end.
But why Paul Newman? Why would I choose such an actor to portray the very best that I have to offer? As audacious as it all may be, I've always wanted the very best. Even my pipe dreams are filled with Newman's insight, his uncompromising integrity, and his everlasting elegance. And I sensed that the man still had everything it takes to shake up the world just one last time.
I remember Paul Newman speaking up for Washington Week in Review as he did for a promtional. He cited the news panel as the sort of people you would like to invite into your home.
Exactly so! And so too Paul Newman!
I still have one third of a bottle of Newman's Own, Organics, The Second Generation, Extra Virgin Olive Oil in my refrigerator. It proudly announces 200 million dollars having been donated to thousands of charities world wide since 1982 as derived from the profit from these sales.
The oil is exquisite. Yet even at that, I have mixed feelings about using the rest of it up. Certainly I shall have to save the bottle. And the best things to save are the memories.
My heart goes out in this time of loss to surviving members of the Newman family. We lost a great one. Paul Newman will be missed.
I had Vanity Fair by my nightstand for a couple of months thinking to read the Newman Chronicles, finally getting around to it two nights before dear Paul passed. Then I called my mom on Saturday morning and told her the news, and she had just been watching one of his films the night before. I connected with his work when I was only 12, dancing around to the soundtrack of Butch Cassidy and the Sundance Kid, not knowing how special his films were for the world until I grew older. I was not so lucky to have ever seen him, but there was a chance encounter that my mom had when she was working as a PA on The Great Gatsby (a Redford film shot in Texas) and he showed up on set. She walked into an office to deliver paperwork and he was there, and he turned facing her. She said it was quite a shock and that it is true about his eyes being so amazing...I really think he is a kind of Bodhisattva who, through the vehicle of his work and example, shed enlightenment all around. His passing brings some sense of loss, but a much greater sense of who he was and is -now a star in the heavens from where he descended for a time.
I had Vanity Fair by my nightstand for a couple of months thinking to read the Newman Chronicles, finally getting around to it two nights before dear Paul passed. Then I called my mom on Saturday morning and told her the news, and she had just been watching one of his films the night before. I connected with his work when I was only 12, dancing around to the soundtrack of Butch Cassidy and the Sundance Kid, not knowing how special his films were for the world until I grew older. I was not so lucky to have ever seen him, but there was a chance encounter that my mom had when she was working as a PA on The Great Waldo Pepper (a Redford film shot in Texas) and he showed up on set. She walked into an office to deliver paperwork and he was there, and he turned facing her. She said it was quite a shock and that it is true about his eyes being so amazing...I really think he is a kind of Bodhisattva who, through the vehicle of his work and example, shed enlightenment all around. His passing brings some sense of loss, but a much greater sense of who he was and is -now a star in the heavens from where he descended for a time.
(to the editor: I sent again with film title correction, The Great Waldo Pepper)
My Dad and I always go to the movies, it's our thing and we together have gone to see all of Paul Newman's movies. And the ones "before my time" I watched on TV with my Dad. My Mom had a crush on him and those "blue eyes." All three of us were together when we heard the news of his passing. Seemed surreal, the world has lost an incredible human being. Although he is immortalized in film, he will be missed by many. Best wishes to his family at this time, as they suffered the greatest loss. May we all try to be even a little like Newman, follow his lead and leave the world a better place than the one we entered.