Kids and Concussions: Not Just A Bump on the Head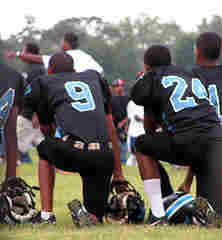 When NPR's Sports Correspondent Tom Goldman's story on kids and concussions aired on Morning Edition last week, the response was immediate. Simply put, getting knocked around on the high school football field deserves a lot more attention than just, "buck up kid, shake it off." So, we're bringing Tom to you, as well as high school football player and hit-taker Billy Hagberg's mom and pediatric neuropsychologist Dr. Gerry Gioia, to take your questions and let you know what to look out for when your son or daughter takes a dive on the playing field or a hit to the head.
I find it "odd" that MOM let her son continue to play... even after knowing what a concussion CAN do.
We already heard this story on morning edition. I understand that high school athletics programs need to be more aware. However, I don't think it warrants a repeat performance. There are unlimited interesting topics, please come up with something original.
My son sufered a grade 2 concussion in a Parish League basketball game. It was pretty traumatic for all involved. My wife hates the mmemory. Many of the older Church and school gyms are ill designed to handle the much faster and athletically advanced quality of play - much more so then when I was a similar age - and I was a pretty good athlete. Coaches should be acutely aware of the physical surroundings and be well trained in first aid and handling physical trauma.
My son had concussion from football ,with daily headaches for months. I found the Impact program myself at a local hospital and had testing and follow up; I also found little knowledge and awareness from the Pedicatrician, parents,etc.
I missed the beginning of the show, but has the importance of mouth guards in sports been addressed? And the differences in molded guards vs. pre-made ones.
My wife always worried that our toddler could have had a concussion if she fell. I always thought a considerable amount of force was necessary for a concussion to occur. My wife's prudence included watching out for uneven dialated eyes.
How does this discussion relate to the fragile skull of toddlers and active kids? What should parents look for?
Anytime one of my 4 children had a head bump, our pediatrician advised us to arouse the child every two hours during the night and shine a flashlight in his eyes. If the child's irises did not contract in response to the light,it indicated a possible concussion and we were to seek help immediately. It seems this simple procedure would have prevented a lot of heartaches down the road for many children and parents.
My four year old daughter fell at home and suffered a serious skull fracture and broken collarbone. Not only was the skull fracturee missed in the emergency room of our regional children's hospital, but no mention was made of a concussion. She recovered, but only after months of headaches, sleep problems and other issues. I know now she was suffering from the after effects of a concussion, but wish we'd had more information and support.
I would like to draw attention to the cervical trauma to the cervical spine and its relationship to the skull. As a chiropractor specializes in the upper cervical spine with non-rotational, specific adjustments, the trauma as described in this story could very well have misaligned the skull in relation to the upper cervical spine. There are the cranial nerves whose nuclei are found below the skull, there are the spinal nerves exiting from the cervical spine and ofcourse the brain stem and spinal cord. I ask the question, "Is only thinking about the brain as a recipient of trauma ignoring what could also be contributing to long term effects and interfering with proprer nervous function?"
I wondered how you follow up on young children who have had concussions. How long can the symptoms continue? What do you watch for?
My daughter has cerebral palsy and has been knocked down or fallen a njumber of times and has had 3 mild concussions that we are aware of. She is now 8 and the last concussion was 2 years ago. Could this still be affecting her concentration and balance? Is there a way to tell?
I am now 59 yrs. old and out of work on dissability. I can not blame this situation totally on high school footbal but I suffered 3 major concussions, 2 hospitalisations. No one ever talked about a brain or neck injury to me or my folks, the coaches just said he needs to tough it out if he wants to play ball. By my senior year ( I was varsity as a freshman-no bragging intended), I determined I would not play full time. I tried pre season and spring camp then a couple of games. By then I was in a neck brace and determined not to continue on my own. I suffered plenty of humiliation due to that decision but I was already afraid of what permanent damage was done. And there was, I'm finding out more every few months now. If I was not in treatment at a "pain clinic" I could not have taken the pain and other results nuch longer. The memory is getting worse every year now. I would really like to know if there is any recourse for someone like me.
Thank you for your listening.
Back 8 years ago my daughter suffered 2 concussions in one season of high school softball. After the first, a ball to the head, she was cleared quickly go back to play but suffered dizziness, headaches and sever nausea. I think the second was the result of poor concentration and unstadiness on the field coming only 2 weeks after the first. The trainers and pediatrician didn't seem to worry about this at all. After the second she, with my full support, refused go back to play with her team much to the dismay of the coach. She also missed many days of school due to not being able to concentrate, sever headaches and vomiting due to nausea. The school was not the least bit understanding about this at all. They told me she was faking and I was being an over protective mother! I certainly hope all their attitudes have changed as a result of this new information.
My daughter is a patient of Dr. Michael Collins. She had four concussions while playing high school soccer four years ago. The general lack of knowledge not only within the school training staff, but more surprisingly within the medical profession was frightening. Also, her neurologist provided some recommendations that were contrary to recovery.
Dr. Collins did a thorough review of her case, provided baseline testing using IMPACT and excellent follow-up care. Although she has made huge strides in her recovery, the sometimes daily battle dealing with Post Concussion Syndrome (PCS) and the continued lack of understanding of living with PCS is frustrating to say the least. Dr. Collins was simply incredible. The trips from Cincinnati to Pittsburg were invaluable. He was the difference in her recovery
Self-Help Book
I never read the book but looking at my own personal knowledge by reading self-help books I can relate to the book in question about the power of emagination. I can relate that to another form of encantation talk by Anthony Robbins national best seller "what ever you focus on expands", If you foucus on having a comftable life all you will have is a comftarble life. T. Harv Eker put it best in Secrets Of A Millionare Mind, "Comftarble, is the middle-class favorite word", conversly if you focus on being rich or even wealthy you would mostlikely become that or come very close to becoming that. My own saying, "Shoot for the stars and if you fail you will most likely be among the clouds" or "The sky is not the limit, nothing is", Estevan Delmar.
please use correct terminology in your stories. TRAINERS do not work with sports teams... Certified ATHLETIC trainers do or athletic trainers, maybe personal tainers or lion trainers but not just Trainers.
my daughter is a sophomore soccer player and my son is playing football, basketball and baseball in the junior school. what signs should i watch for in case of head injuries and is there any way to provide extra protection for my kids in their sport activities ? thank you.
I appreciate the willingness to bring this topic to light. As an athletic trainer and educator, I feel it is imperative that we make all athletes, parents, and coaches aware of the consequences of ignoring the signs and symptoms of concussions.
As a member of the National Athletic Trainer's Association, I would encourage all listeners to meet the athletic trainer at their child's school or college. If there is not an athletic trainer on the sidelines or at their school then they should ask their athletic administrators 1) who is charged with preventing, treating, and managing acute and chronic athletic related injuries and 2)why is there not an athletic trainer providing care to my child?
Finally, I would also like to encourage listeners and viewers of this blog to visit the National Athletic Trainer's Association (NATA) website at www.nata.org. The NATA has published several position papers on the care of injured athletes. The NATA's website at http://www.nata.org/statements/index.htm
provides links to several position papers. The Management of Sports-related Concussion position statement can be downloaded for this link.
My son is presently 6 weeks out from his concussion from a head injury in wrestling. He has most of the post concussion syndrome symptoms and is essentially unable to go to school or do sports. This is a very disabling health problem and a huge impact on the family. He likely jumped back into his life way too soon. Rest and respect for the seriousness of a head injury is so important. We have a long road towards healing now
My 15 year old daughter has had two grade-2 concussions in the last year and a half. She has had CAT scans after each time she got hurt. How can I protect her without asking her to give up sports?