It's A Plane... It's A Chopper... It's An Osprey!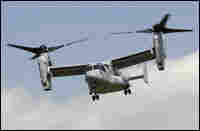 It feels like we've heard stories about the imminent demise of the V-22 Osprey for years now. Actually, it's more like decades. This is the military plane that looks and flies like a regular airplane, but lands and takes off like a helicopter (the rotors twist roughly 90-degrees). When he was Secretary of Defense, Dick Cheney tried to ground the project four times. But remember, congress has the "power of the purse," not the Pentagon. And representatives funded it anyway, which often brought jobs and business contracts to their districts. Now, after 25-years in development, the deaths of 30 men in crashes, and some $20 billion, what critics call a shorthanded Osprey is headed to Iraq. Mark Thompson did a nice piece on "The Plane that Wouldn't Die" for Time magazine. He'll be on the show today to talk about how to plane survived, and what the whole process tells us about the way Washington works (or doesn't, as he put it).
There is a good description of ring vortex state in Wagtendunk. It is common to all helicopters and not about being too close to another aircraft or interference from the other rotor. Turbulence can agravate it.
A failed interconnecting drive shaft with one engine operating will cause loss of control. Design changes were made to prevent that from happening again.
There is an Osprey because no helicopter can go as far or as fast. It has limitations that guarantee a continued need for helicopters but your article didn't mention any of those.