Sexy Marine Biologist : Blog Of The Nation What's next... Sexy NPR Producer?
Sexy Marine Biologist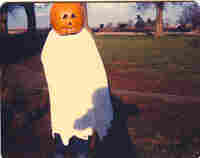 Halloween has never really been close to my heart. I was "Fairy Barrie" for more years then I care to count, and Raggedy Ann for the rest. It always bugged me that I had to wear a coat over my costume, especially as a fairy, for gosh sakes. (Fairies don't get cold!) But I will say, I had a few outstanding years in my early twenties when I definitely did not care about the weather. In fact, there were Halloweens when my costume was just a well-placed assortment of sparkles and chiffon. Of course, I was gainfully employed and far from the watchful eyes of my folks. Lately, I've been shocked by the twelve year olds showing up as "sexy Girl Scout," "sexy Doctor," or "sexy Founding Father." And I'm not the only one. And I'm trying not to be a prudish thirty-something. I think you should get to eat candy, and never hand out apples.* But my goodness... should a nine year old be wearing fishnets? What are your challenges this Halloween?
*But I'm flexible on toys vs. candy.