Sexy Marine Biologist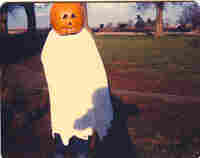 Halloween has never really been close to my heart. I was "Fairy Barrie" for more years then I care to count, and Raggedy Ann for the rest. It always bugged me that I had to wear a coat over my costume, especially as a fairy, for gosh sakes. (Fairies don't get cold!) But I will say, I had a few outstanding years in my early twenties when I definitely did not care about the weather. In fact, there were Halloweens when my costume was just a well-placed assortment of sparkles and chiffon. Of course, I was gainfully employed and far from the watchful eyes of my folks. Lately, I've been shocked by the twelve year olds showing up as "sexy Girl Scout," "sexy Doctor," or "sexy Founding Father." And I'm not the only one. And I'm trying not to be a prudish thirty-something. I think you should get to eat candy, and never hand out apples.* But my goodness... should a nine year old be wearing fishnets? What are your challenges this Halloween?
*But I'm flexible on toys vs. candy.
proud stay at home dad.
Pumpkin sushi:
carrot with green onion roled in a traditional sushi role. looks like a pumpkin , Kool
I am a high school teacher and I just told my students this morning that if you're in middle school or higher, you're too old for trick or treating. When they challenged that, I said trick or treating is for kids that still believe in santa claus.
I said if you want to go to halloween costume party, that's cool, but trick or treating is for the little ones.
We have always enjoyed making costume by ourself. Using garbage bags, old toys and clothes. I think buying costume is lame. I think schools should have Halloween costume making contests or the art classes can make this into a class project in the month of October instead of avoiding the issues.
A friend of mine used to keep a basket of makup next to her front door. When children, usually teens, came to her door without a costume, the only way they could get candy was to allow her to put makeup on them.
I stay home and hand out a potato with candy. If they are lucky or good tricksters I have rewarded them cloves of garlic or an onion. It has become a tradition many of our childrens' classmates look forward to. (Please excuse the split infinitive, not an English Major
In 1995 I began giving out gently read children's books instead of candy. Since 2001 we took the idea out into our community in San Jose and this year will give out 8000 children's books to trick-or-treaters in two events in San Jose tomorrow. Our motto is "Feed kids' minds, not their cavities. Give them brain candy."
If you'd like information on how you can do this for your own trick-or-treaters, or do it on a larger scale in your community, download the free kit at www.BooksForTreats.org
Rebecca Morgan, Founder
At the end of the Halloween program Neal Conan mentioned Margaret O'Brien's character, Tootie, in Meet Me in St Louis throwing flour on the man's face. That movie was made 1944.
He then mentioned she was in the Bad Seed. Incorrect.
She was not the girl who played the Bad Seed. That girl was played by Patty McCormack in 1956.
Margaret O'Brian was born in 1937, she would have been 19 years old when the Bad Seed was made.
I was listening, yesterday, and when a fellow mentioned telling a joke for a treat it brought to mind that my 70 year old husband told me that when he was a child it was "a trick for a treat." Each child had to preform to recieve a treat. He said some did a dance, some sang a song and he used to stand on his head. I think this must predate the idea of the joke for a treat.
I couldn't believe that some schools are banning Halloween because it's a pagan holiday. Maybe we should ban Christmas celebrations in schools too.
I couldn't believe that some schools are banning Halloween because it's a pagan holiday. Maybe we should ban Christmas celebrations in schools too.
Sent by Kelly Ing | 12:10 PM ET | 11-01-2007
Um, yeah. News flash, pretty much all public schools already have.
We call them "holiday" parties, considering not every kid is Christian. In my high school, we've got more Jewish kids than Christians, and we have quite a few Muslims as well. It's the twenty-first century. It's all a little more politically correct now. We sing "Dreidel Dreidel" along with "Silent Night" in chorus, we are taught tolerance.
And we don't have Christmas parties in school.