Skip to Main Content
Three... two... one...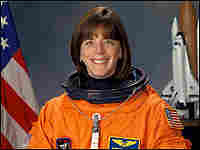 As a kid, my dream job changed by the day... pilot, policeman, doctor, baseball star, cowboy, even astronaut (and those are just the ones I can still remember). Fortunately for Barbara Morgan, she's a little more persistent than I was. In August she realized her dream of flying on the space shuttle... twenty-two years after she was selected as the backup to Christa McAuliffe in NASA's teacher in space program. Now, Barbara's story morphs from the dedicated teacher who could to the full-time astronaut who did. She is NASA's first teacher-astronaut, and will be on the show today to talk about the difficulty of adjusting to space, the importance of teaching, and what it's like to realize such a huge goal. Of course, we can't tell her story without also remembering her friend Christa McAuliffe, and the 1986 Challenger disaster. Let us know what questions you have for one of the fewer than 50 women who have gone to space.